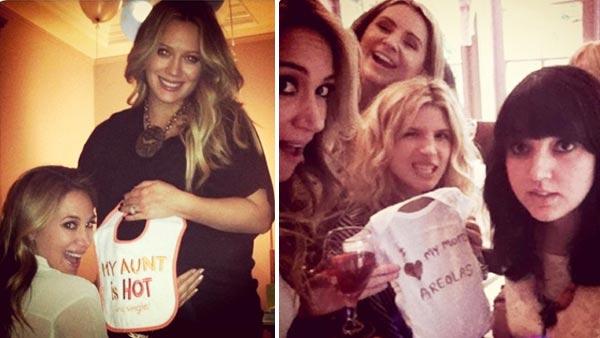 Hilary Duff celebrates pregnancy with star-studded baby shower
02/06/2012 by Olivia Allin
Former Disney actress Hilary Duff celebrated her pregnancy on Sunday with a baby shower thrown by sister Haylie Duff and their mom.
"What an amazing day my mommy and @HaylieK threw it down! best baby shower! This baby is spoiled already!" Hilary Tweeted after the party. "And this mama is wiped out!!"
"So grateful for all my friends and family that love and support me through all these huge milestones in my life! Such special memories today!" Duff added.
The 24-year-old actress is expecting a baby boy with her husband, NHL player Mike Comrie. Her sister, actress and food blogger Haylie Duff, 26, posted photos from the party, including one of her holding up a bib which said, "My aunt is hot and single."
"The cutest mama around & baby's favorite bib," Haylie Tweeted with the photo.
Haylie also posted a photo of the guests at the baby shower, which included "7th Heaven" star Beverley Mitchell, HelloGiggles.com founder Sophia Rossi and blogger/jewelry designer Mr. Kate. In the photo, they are shown holding up a onesie which reads, "I <3 my mom's areolas."
Duff recently dished to OnTheRedCarpet.com correspondent Rachel Smith about her unusual pregnancy cravings.
"I want spicy food all the time. And that's like, a no no for pregnant women, right? The other thing is chocolate milk. But not together," Duff told Smith at the Beauty Book for Cancer event on Monday, November 14.
"So I haven't had any weird concoctions yet but I also really like chocolate milk," Duff added.
As for being pregnant at 24, the actress said she and her husband always wanted to be young parents. "When we got married, my husband and I -- even when we were dating -- we knew we wanted to have babies young and I love kids," she said. "But then it happens and you're like, 'Whoah, oh my god this is happening right now? How'd this happen to me?'"
The actress announced in August that she and husband Mike Comrie are expecting their first child together. Duff and Comrie, a 31-year-old NHL player, married on August 14, 2010.
She announced the sex of the child during her appearance on "The Ellen DeGeneres Show" in October. "It's a boy! I had a feeling it was a boy the whole time," she told DeGeneres.
Duff is best known for her role as the lead character on the Disney Channel series "Lizzie McGuire." She had a recurring role on "Gossip Girl" in 2009 and had guest roles on "Community" and "Law & Order: Special Victims Unit. The actress is also a best-selling author. Her second novel, "Devoted," was released on October 11.
(Copyright ©2014 OnTheRedCarpet.com. All Rights Reserved.)