Entertainment News: heidi montag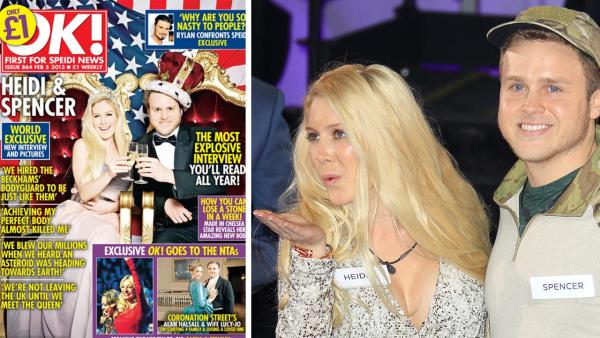 01/29/2013
While U.S. television has been largely "Speidi"-free for more than two years, viewers in the United Kingdom have over the past few weeks gotten to watch "Hills" villains Heidi Montag and Spencer Pratt on "Celebrity Big Brother" and the two came in second place during the recent 11th season.
The pair, known for their past themed and staged photo shoots that have appeared in tabloids worldwide over the years, appear to be embracing their newfound popularity across the pond -- they currently appear on the latest cover of OK! magazine, which depicts them as a king and queen on thrones.
More heidi montag
04/17/2012
Heidi Montag is promoting the follow-up to her debut album "Superficial" by appearing scantily clad in a swimsuit on the cover of her new EP "Dreams Come True."
The 25-year-old former "Hills" star sings on all four of the record's tracks. "Dreams Come True" was released on April 11 and is available on iTunes for $4.99. Songs titles include "Your Love Found Me," "Party Is Wherever I Am" and "Overdosin."
05/12/2011
Heidi Montag of "The Hills" claims that she is done with plastic surgery after famously getting 10 procedures in one day in 2009.
"Obviously when I get a little older, I'll take it from there," the 24-year-old told People magazine. But for this moment, I don't want anything to do with plastic surgery!"
06/20/2011
Heidi Montag says she has been working out for about 14 hours a day for the past two months after being what she called "a lot overweight" and has lost more than 25 pounds.
Montag, who is 24 and has always appeared slim on television, is best known for her role on the MTV reality series "The Hills," which ended last year after six seasons, and famously underwent 10 cosmetic surgeries, including a breast augmentation. She told Us Weekly that she had taken a year off from the gym after her body transformation.
04/22/2011
Heidi Montag of "The Hills" is returning to reality television with a new VH1 show, tentatively called "Famous Food," which will see her and others try to open a restaurant.
The series also stars Ashley Dupre, the call girl at the center of the Elliot Spitzer sex scandal in 2008, former "Bachelor" star Jake Pavelka, "Real Housewives of New Jersey" cast member Danielle Staub, Vincent Pastore from "The Sopranos" and DJ Paul and Juicy "J" from the rap group Three 6 Mafia.
05/11/2011
Heidi Montag formerly of "The Hills" admit on Monday's "Lopez Tonight" that she "needed a break" after living in the spotlight for six years.
"I needed a break after such a crazy six years of my life," she told host George Lopez, as reported by Us Weekly . "And [from] being in L.A. and Hollywood... I've been with my puppies and my husband. It's low-key."
02/10/2011
Heidi Montag reportedly says she was banned from a recent premiere of Jennifer Aniston's new movie "Just Go With It," an Adam Sandler romantic comedy that features both celebrities and is set for release on Friday, February 11.
Aniston's spokesperson told OnTheRedCarpet.com that the "Friends" actress had nothing to do with the issue.
Sign up Stay Informed
Entertainment News