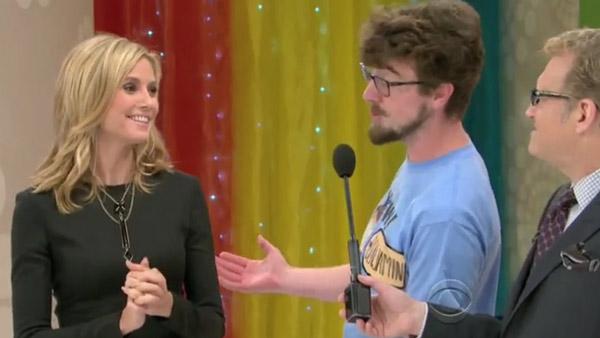 Heidi Klum gets serenaded in German on 'The Price Is Right'
01/06/2012 by Olivia Allin
Heidi Klum appeared on "The Price Is Right" on Friday, as part of the game show's Celebrity Charity week and got serenaded in German.
The 38-year-old Supermodel was guest-hosting with Drew Carey when a contestant named Benjamin sang her some German opera.
"He said he's from Kansas and he's an opera singer, and I just believed him," Drew Carey said.
Benjamin, who wore a T-shirt that read "I <3 Drew Carey" with a picture of the host, proved to be less talented at judging pricing and lost out on winning a Ford Fiesta.
"The Price Is Right Celebrity Charity Week" welcomed celebrities like Snoop Dogg, Neil Patrick Harris and Chris Daughtry this week, to compete for their favorite charities.
Snoop Dogg earned an impressive $72,585 for his charity, The Snoop Youth Football League on Monday, while Harris got tackled by an overly-enthusiastic female contestant on Wednesday.
Watch a clip of Heidi Klum on "The Price Is Right" below.
(Copyright ©2014 OnTheRedCarpet.com. All Rights Reserved.)
Sign up Stay Informed
Entertainment News