Entertainment News: gwen stefani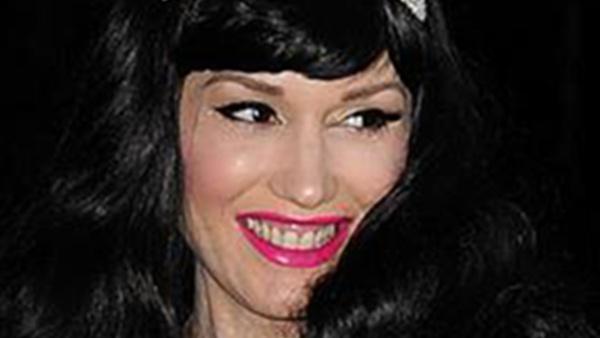 11/01/2013
See photos of Gwen Stefani, husband Gavin Rossdale and sons Kingston and Zuma out Trick-or-Treating on Halloween 2013.
More gwen stefani
10/18/2013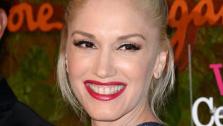 See photos of Gwen Stefani, Demi Moore, Charlize Theron, Courteney Cox, Rachel Zoe, Evangeline Lilly, Amy Adams and other stars at the Wallis Annenberg Center for the Performing Arts Inaugural Gala on Oct. 17, 2013.
09/30/2013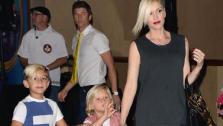 Gwen Stefani brought her and husband Gavin Rossdale's two children, sons Kingston and Zuma, to the Disney Junior Live On Tour! Pirate and Princess Adventure premiere in Hollywood, California on Sept. 29, 2013.
Other celebrities who attended included "Beverly Hills, 90210" and "Sharknado" star Ian Ziering, who arrived with his wife and one of their daughters, and star couple Rebecca Gayheart and Eric Dane, who brought their two little girls. (Check out more PHOTOS of Gwen Stefani, her boys and other celebrities at the event).
11/04/2012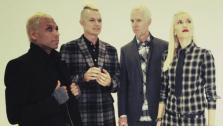 No Doubt pulled their latest music video for the single "Looking Hot" off the Internet after receiving complaints from the Native American community.
The video featured a Wild West theme with band members Adrian Young and Tom Dumont dressed up as cowboys while Gwen Stefani and Tony Kanal appeared with tribal garments, according to Reuters. The band initially released the video on Friday, November 2, but quickly took the video down and issued an apology on November 3.
07/16/2012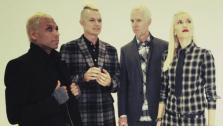 Gwen Stefani's band No Doubt debuted their new single, "Settle Down" from their first album in 10 years, "Push and Shove."
The six-minute song, from the band's upcoming sixth studio album, features reggae beats and steel drums. In the music video for "Settle Down," which was directed by Sophie Muller, the band members are shown driving individual big-rig trucks on the way to their reunion party.
04/26/2012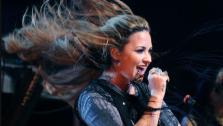 The roster of celebrities rumored to be in the running to join Simon Cowell's FOX series "The X Factor" has exploded.
The singing contest series returns for season 2 in September. Two spots on the judges' panel are up for grabs following the departure of Paula Abdul and Nicole Scherzinger in January, and it was recently reported that pop stars Demi Lovato, Miley Cyrus and Avril Lavigne are being considered for the positions. Spokespeople for all parties, including FOX, have declined to comment .
11/13/2011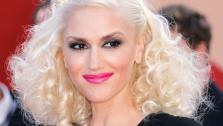 Singer and fashion designer Gwen Stefani debuted her affordable Target fashion line aimed at kids and tweens on Sunday.
The line, which is dubbed Harajuku Mini, hit the retail stores and website on November 13 and includes the same Japanese-inspired flair as her adult Harajuku Lovers line, but items are aimed at kids aged one through 13 and are priced between $3.99 and $29.99.
07/19/2011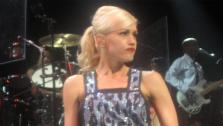 Singer and fashion designer Gwen Stefani is reportedly developing an affordable fashion line aimed at kids and tweens to be sold at Target, Women's Wear Daily reports.
The line, which is dubbed Harajuku Mini, will hit the retailer on November 13 and is set to include the same Japanese-inspired flair as her adult Harajuku Lovers line. Items will be priced between $3.99 and $29.99.
03/23/2011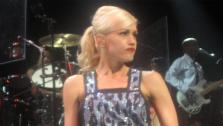 Gwen Stefani of the ska and rock group No Doubt has donated $1 million to help with relief efforts in Japan following this month's deadly tsunami and earthquake.
"I've been inspired by Japan for many years and have a true love, appreciation and respect for the Japanese people and their culture," a message on the band's website quoted Stefani as saying. "The disaster in Japan is beyond heartbreaking and I want to do anything I can to help. I would never be able to make a gesture like this without the love and support of all the fans over all these years."
01/13/2011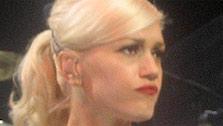 Gwen Stefani, singer of the ska and rock band No Doubt, is the new face of L'Oreal Paris, joining celebrities such as Eva Longoria, Beyonce Knowles and Scarlett Johansson.
Stefani is seen as a fashion icon by many and has her own line of clothing, L.A.M.B. L'Oreal, named last year as the world's largest cosmetics and beauty firm, is known for its slogan: "Because you're worth it."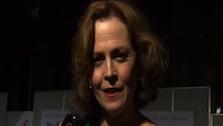 This week's show was filmed at Grauman's Chinese Theatre in Hollywood. See what Betty White and Sigourney Weaver have to say about their new film, "You Again," and we meet the new judges of "American Idol."
Sign up Stay Informed
Entertainment News