Entertainment News: guns n roses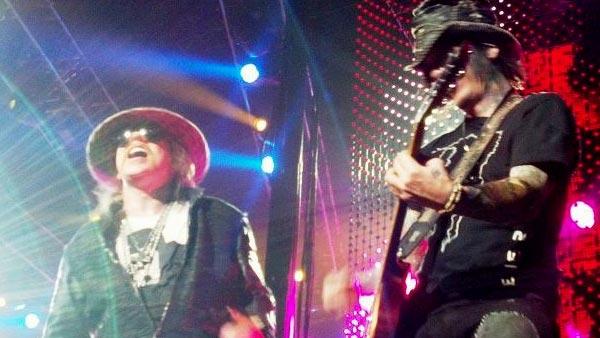 06/07/2012
Police in Paris recently arrested a female model suspected to have been involved in the theft of some $200,000 worth of jewelry from Axl Rose, singer of Guns N' Roses.
The 50-year-old frontman's rock band is currently touring Europe and Israel. Police sources said three gold and diamond necklaces that belong to him were stolen during a Guns N' Roses after-party that followed the group's concert in Bercy stadium in Paris on June 5. Officers were called in to calm the situation after Rose became enraged over the theft, the Agence France-Presse news wire reported.
More guns n roses
10/25/2012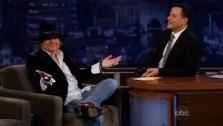 Guns N' Roses singer Axl Rose, one of rock's most notorious "bad boys," recently gave his first network TV interview in about 20 years, chatting with Jimmy Kimmel on his late-night ABC talk show "Jimmy Kimmel Live!."
Viewers got a taste of a kinder, gentler Rose, known for largely avoiding the press despite a rare appearance on VH1's "The Metal Show" in November. On "Jimmy Kimmel Live!," he talked politics, answered questions about his past hairstyle, explained what makes him feel like an idiot, poked fun at his himself with regard to his tardiness at his own concerts. Check out 12 things viewers learned about Axl Rose from his interview on "Jimmy Kimmel Live!."
12/07/2011
Guns N' Roses, the Red Hot Chili Peppers and the Beastie Boys are among the bands set to be inducted into the Rock and Roll Hall of Fame in 2012, organizers announced on Wednesday, December 7.
The inclusion of Guns N' Roses raises the possibility of the band's most known musicians reuniting on stage for the first time in more than 20 years. Rock Hall inductions of the past have brought together former members of groups such as The Police and The Eagles.
01/30/2012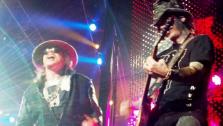 Guns N' Roses is set to embark on a new mini-tour of several clubs, including three venues in New York during the city's annual Fashion Week.
The series of concerts kicks off on February 10 at the Roseland Ballroom in Manhattan and ends on February 24 at the House of Blues in Atlantic City, New Jersey. The band, headed by original singer Axl Rose, had in 2011 toured the United States, performing at larger venues.
04/11/2012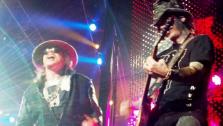 Axl Rose says he refuses to attend Guns N' Roses' Rock and Roll Hall of Fame induction ceremony and "respectfully declines" his inclusion in general, saying in a long rant that his decision is personal.
Since the famed rock group was announced as one of the inductees of the April 14 event, fans and press have speculated about whether Rose, the only original member, would appear on stage with former band mates, such as guitarist Slash, for the first major reunion in about 20 years
04/14/2012
Guns N' Roses, the Red Hot Chili Peppers and the Beastie Boys are among the bands inducted into the Rock and Roll Hall of Fame on April 14, 2012.
Several musicians being honored could not (or chose not to) attend the ceremony, including Axl Rose, Beastie Boys' Adam "MCA" Yauch and Rod Stewart, who was set to be inducted for the second time with his former band, Faces.
09/28/2011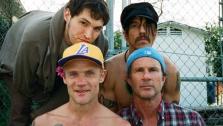 The Red Hot Chili Peppers, Guns N' Roses and punk rocker Joan Jett are among the bands and artists who have been named as nominees for possible induction into the Rock and Roll Hall of Fame in 2012.
Others on the list are the Beastie Boys, the Cure, Donovan, Eric B. & Rakim, Heart, Freddie King, Laura Nyro, Rufus with Chaka Khan, The Small Faces/The Faces, The Spinners, Donna Summer and War. Who do you think is most deserving of the honor? Vote in our poll.
11/12/2010
Guns N' Roses may release a new album soon, guitarist DJ Ashba says, adding that singer Axl Rose has a lot of things up his sleeve.
The rock group's latest album, "Chinese Democracy", has sold at least one million albums in the United States since its 2009 release but was not as successful as many of its previous records, such as "Use Your Illussion II" and "Appetite For Destruction".