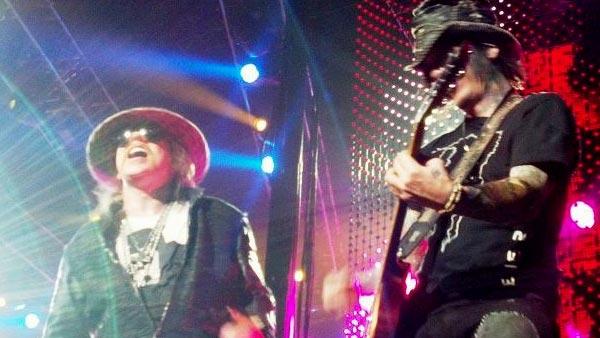 Guns N' Roses announces new U.S. concerts - see tour dates
01/30/2012 by Corinne Heller
Guns N' Roses is set to embark on a new mini-tour of several clubs, including three venues in New York during the city's annual Fashion Week. The series of concerts kicks off on February 10 at the Roseland Ballroom in Manhattan and ends on February 24 at the House of Blues in Atlantic City, New Jersey. The band, headed by original singer Axl Rose, had in 2011 toured the United States, performing at larger venues. No gigs took place in New York City, but the concerts did attract
celebrity attendees such as Jim Carrey and
Tom Cruise, who hung out with the band backstage, as seen in photos posted on guitarist DJ Ashba's Facebook page
.
Six shows for the new mini-tour have been confirmed "so far"
, according to a statement posted on the band's website on Monday, January 30, which also said a concert at Webster Hall marks the group's "historic return" to The Ritz, which was the venue's name in the 1980s. Guns N' Roses and other top rock groups performed gigs that that aired on MTV as part of its "Live from the Ritz" series. "For the Webster Hall date, GN'R will celebrate their return by reclaiming the venue as The Ritz with signage and the name appearing on the marquee," the statement said. The band also has something else to look forward to - on April 14, Guns N' Roses will be inducted into the Rock and Roll Hall of Fame in Cleveland, joining newcomers that include the Red Hot Chili Peppers and the Beastie Boys. The inclusion of
Guns N' Roses
raises the possibility of several of the band's most known musicians reuniting on stage for the first time in about 20 years. Rock Hall inductions of the past have brought together former members of groups such as The Police and The Eagles. Rose is the only original member of Guns N' Roses. Musicians such as drummer Steven Adler, bassist Duff McKagan and guitarists Izzy Stradlin and Slash quit or were ousted from the band amid drug issues, legal disputes and creative differences.
If Axl and the other guys will consider doing it, it would be a dream come true for me," Adler told Rolling Stone
, when asked about a stage reunion, adding: "The drama hasn't stopped for 25 years. I don't foresee it stopping, but I know there's love between all five of us. I know there is. Not just four of us, five of us. Five. We owe it to the fans. The LEAST we can do is give them one great performance." Rose has not commented. Nowadays, The 49-year-old performs with other musicians under the band's name, but Guns N' Roses in its current form is not as popular as it was in the 1980s and 1990s, when it released hits such as "Sweet Child O' Mine," "Don't Cry," "November Rain" and "Paradise City." Tickets to the Rock and Roll Hall of Fame induction ceremony are sold out. The event set to air on the HBO cable network in early May. The ticket presale for Guns N' Roses' mini-tour begins on Tuesday, January 31 at 10:00 a.m. ET. You can get tickets at
gunsnroses.com
. Check out Guns N' Roses' new tour dates below. February 10 - Roseland Ballroom, New York, NY
February 12 - Terminal 5, New York, NY
February 15 - Webster Hall (formerly The Ritz), New York, NY
February 19 - House of Blues, Chicago, IL
February 23 - The Fillmore, Silver Spring, MD
February 24 - House of Blues, Atlantic City, NJ
(Copyright ©2014 OnTheRedCarpet.com. All Rights Reserved.)
Sign up Stay Informed
Entertainment News