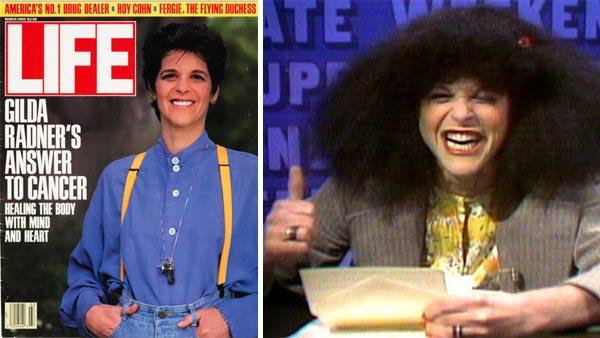 Gilda Radner controversy: Outrage about Gilda's Club cancer support group changing name
11/30/2012 by Corinne Heller
A Wisconsin branch of a national cancer support group has dropped the name of late "Saturday Night Live" actress Gilda Radner from its title, saying it's because younger patients may not know who she is, while scores of fans have expressed outrage about the decision. The board of directors of Gilda's Club Madison recently decided that as of January 2013, the organization will be called Cancer Support Community Southwest Wisconsin. Radner, one of the few original "SNL" cast members, died in 1989 at age 42 after battling ovarian cancer. The support organization Gilda's Club Worldwide was set up as a tribute to her. The Madison club is the fourth affiliate to drop her name from its title, the
Wisconsin State Journal
reported. "One of the realizations we had this year is that our college students were born after Gilda Radner passed, as we are seeing younger and younger adults who are dealing with a cancer diagnosis," Lannia Syren Stenz, the Madison club's executive director, told the outlet. "We want to make sure that what we are is clear to them and that there's not a lot of confusion that would cause people not to come in our doors." Radner, a native of Detroit, Michigan, was a member of the first cast of "SNL," playing characters such as reporter Roseanne Rosannadanna, elderly woman Emily Litella and talk show host Baba Wawa. She won an Emmy for her performances and appeared on the NBC sketch comedy series from 1975 to 1980, alongside actors such as Chevy Chase, Dan Aykroyd, Bill Murray, Jane Curtin and John Belushi. Radner was one of the most famous female comediennes and well-liked by her peers and fans. While she was being treated for her illness, she made the cover of LIFE magazine. On the Madison group's
Facebook
page, several people expressed criticism about the name change. "Why would you change the name because the younger people don't know who she is, why not EDUCATE them on who this Great Lady was!" one person asked, while another said: " "So, young people don't know who Gilda Radner was? Let's make her name trend worldwide," Twitter user Nina L. Diamond wrote A Canadian fan also started an
online petition
to protest the Wisconsin-based group's name change. As of Friday, November 30, it has 1,610 signatures. However, another person on Facebook wrote: "For the love of God; STOP critisizing the Wisconsin Chapter of Gilda's Club for changing their name to Cancer Community of Southwest Wisconsin...(.because Gilda Radner died in 1989 23 years ago and young people do not know who she is.) It does not matter what the name is...it matters what benificial services it provides period (sic)." Radner wed second husband Gene Wilder in 1984, two years after divorcing guitarist G.E. Smith. The two had co-starred in the movie "Hanky Panky" two years prior and went on to appear together in the films "The Woman in Red" and "Haunted Honeymoon," which was released in 1986 and was her final one. The couple had no children together. Wilder, who is also known for his iconic title role in the 1971 film "Willy Wonka and the Chocolate Factory," told the Associated Press that he didn't like the name change but he understood it, adding that if he had to tell Radner about it, she might ask "Do they have to throw me out?" "I'd say, 'It's not throwing you out, honey, it's getting more money.' And she'd say, 'OK, I guess if they have to, they have to,'" he told the Associated Press. "It's too bad. I wish it weren't so. But I understand."
Martha Plimpton
, a "Goonies" and "Raising Hope" actress, called the name change "the stupidest thing I've ever heard," adding: "I just sent 5 copies of her book to Gilda's Club Middleton, WI. If they didn't remember her, now they will."
"SNL" alum Ana Gasteyer
, who was a cast member between 1996 and 2002, said the move "makes no sense." Radner had herself attended cancer support group sessions, at a branch of the cancer support group The Wellness Community. She found them therapeutic. And her peers enjoyed her comedy. "Suddenly, not only did I have the room laughing, but I felt my thumb going up in the air like Roseanne Roseannadanna," she wrote in her book "It's Always Something." "There I was at The Wellness Community and I was getting laughs about cancer and I was loving it. At the end of the meeting, a lot of the women came up to me, asking questions like, 'What kind of chemo are you on?' 'What happened when your hair fell out?' And I saw they were looking to me for answers or leadership. "I love to make people laugh and at The Wellness Community I'd found my role again," she wrote. "It didn't matter there that I was Gilda Radner. It wasn't my reputation. It was who I was and who I always gave been -- someone who is funny." Wilder had helped create Gilda's Club Worldwide to honor his late wife, along with the help of the actress' cancer psychotherapist Joanna Bull, entertainment critic Joel Siegel, who died of cancer in 2007 and Mandy Patinkin, star of "The Princess Bride" and currently, Showtime's "Homeland." Several branches of Gilda's Club continue to operate in various cities. In September, real-life couple and "The Amazing Spider-Man" co-stars Emma Stone and Andrew Garfield took advantage of a paparazzi moment to promote the New York City chapter of Gilda's Club with a handwritten sign (
see photo
). The Wellness Club and Gilda's Club Worldwide joined forces in 2009 to create the Cancer Support Community. The group said in a statement that its affiliates "have always been given the choice to be called Gilda's Club, The Wellness Community, or Cancer Support Community." "The legacy of Gilda Radner will always be an important part of the past, present and future of our organization," the Wisconsin group's
website
states. "Locally, we will continue to honor Gilda's legacy in large and small ways: our run will be Gilda's Run for the Cancer Support Community, our support group rooms will continue to bear the names of Gilda's many characters, our children's support area will continue to be known as Noogieland, and our beautiful paintings of Gilda will remain exactly where they are."
(Copyright ©2014 OnTheRedCarpet.com. All Rights Reserved.)
Sign up Stay Informed
Entertainment News