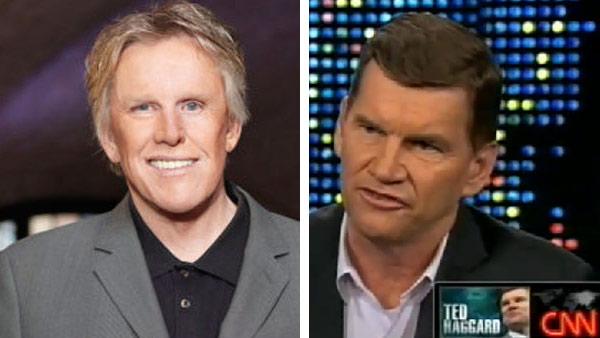 Gary Busey, Ted Haggard set for 'Celebrity Wife Swap,' new ABC reality show
09/21/2011 by Corinne Heller
Actor Gary Busey and evangelical pastor Ted Haggard, the subject of a widely-publicized gay sex scandal, will appear in ABC's upcoming reality show "Celebrity Wife Swap." The show is based on the British series "Wife Swap." ABC aired its own version several years ago. On the show, people's wives trade places temporarily and later dictate new rules of the house, much to the annoyance of the members of the families. An ABC representative told OnTheRedCarpet.com in a statement on Wednesday, September 21, that Haggard and Busey are filming an episode of "Celebrity Wife Swap," adding that additional details were not available. Busey, an Oscar-nominated actor known for movies such as "Point Break" and "The Buddy Holly Story," appeared on the NBC reality show "The Celebrity Apprentice" earlier this year. Haggard, 55, was exiled from the New Life Church that he had founded in Colorado Springs and resigned as president of the National Evangelical Association in 2006 after a male prostitute claimed to have had drug-fueled homosexual trysts with him. Haggard admitted to paying the man for a massage and methamphetamines but denied using drugs and said the two did not have sex. The scandal made national headlines. Haggard, who has condemned homosexuality, said he was "guilty of sexual immorality" and later underwent counseling. He has said the scandal made him contemplate suicide and that his time away from the church strengthened his faith. Haggard was the subject of the 2009 HBO documentary "The Trials of Ted Haggard." That year, he
talked about his ordeal on CNN's "Larry King Live" and admitted to a past relationship with a different man
. He also revealed that he was molested by an adult male when he was a child. Haggard and his wife have been married for more than 30 years and have five children. He currently serves as the pastor of St. James, a nondenominational church in Colorado Springs that he and his wife founded in the summer of 2010. Busey, 67, is unmarried but has a girlfriend, Steffanie Sampson. The two have a 1-year-old son, Luke. Busey has been married twice before and has two children from previous relationships, including actor "Tomcats" Jake Busey. Busey became a born-again Christian following a 1995 arrest for felony drug possession, given after he overdosed on cocaine and GHB. His charges were dismissed. After battling his addictions, Busey joined the Christian evangelical men's group Promise Keepers and became an ordained minister. Busey's spokesperson said he could not confirm or deny the actor's participation in "Celebrity Wife Swap." Haggard's representative had no immediate comment. Busey was part of the cast of "Celebrity Rehab with Dr. Drew" in 2008, using his past history of substance abuse to serve as a counselor to stars suffering from addictions. His stint on "The Celebrity Apprentice," Donald Trump's reality show, saw him sparring with singer Meat Loaf. Busey earned as Oscar nomination for playing the title role in the 1978 movie "The Buddy Holly Story."
The actor appeared at the real Buddy Holly's posthumous Hollywood Walk of Fame
star ceremony earlier this month. Busey is also known for films such as "Lethal Weapon," "Predator 2," "Under Siege" and "Fear and Loathing in Las Vegas" and the surfing film "Big Wednesday." Busey also played a wilder himself on several episodes of the hit HBO show "Entourage." A sequel to the 1991 cult crime film "Point Break," which stars Busey as the partner of Keanu Reeves' character, is currently in the works.
Busey told OnTheRedCarpet.com in a statement that he would consider a role
in the new movie but had several conditions that must first be met.
(Copyright ©2014 OnTheRedCarpet.com. All Rights Reserved.)
Sign up Stay Informed
Entertainment News