Entertainment News: game of thrones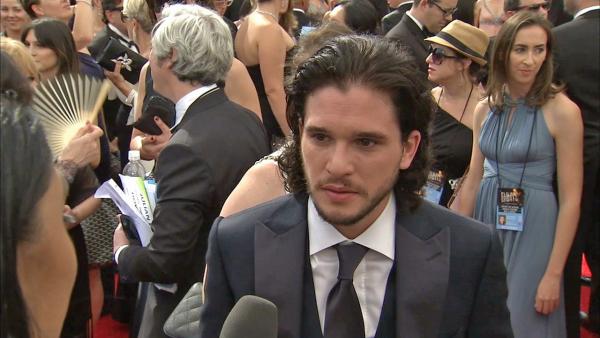 09/23/2013
'Game of Thrones' star Kit Harington (Jon Snow) talks to OTRC.com at the 2013 Emmys about his favorite show season.
More game of thrones
08/05/2013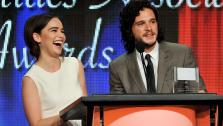 The hit shows "Game of Thrones" and "Breaking Bad," the HBO film "Behind The Candelabra" and actor and comedian Louis C.K. were among the winners of the 2013 Television Critics Association (TCA) Awards.
The winners were named at the group's 29th annual award ceremony at the Beverly Hilton hotel in Beverly Hills, California on Saturday. Keegan-Michael Key and Jordan Peele of the Comedy Central series "Key & Peele" hosted the event.
08/02/2013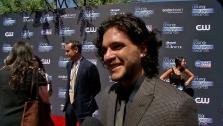 Kit Harington won the Actor of the Year Award at the 2013 Young Hollywood Awards on Thursday for his role as Jon Snow in "Game of Thrones" and talked to OTRC.com about the honor as well as about his first big break.
The 26-year-old British actor, whose real name is Christopher, began his acting career as the star of the play "War Horse" in his native United Kingdom in 2008. Steven Spielberg made an Oscar-nominated film adaptation.
06/06/2013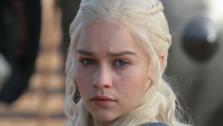 Check out photos of 'Game of Thrones' stars in character and in real life, at a red carpet premiere for the HBO show.
The series' third season finale airs on Sunday, June 9. "Game of Thrones" stars the likes of Peter Dinklage as Tyrion Lannister, Lena Headey as Cersei Lannister, Nikolaj Coster-Waldau as Jaime Lannister, Maisie Williams as Arya Stark, Sophie Turner as Sansa Stark, Michelle Fairley as Catelyn Stark, Richard Madden as Robb Stark, Kit Harington as Jon Snow, Charles Dance as Tywin Lannister, Jack Gleeson as King Joffrey Baratheon and Emilia Clarke as Daenerys Targaryen.
08/02/2013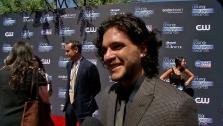 'Game of Thrones' Kit Harington (Jon Snow) talks about his first big break. (2013 Young Hollywood Awards)
06/14/2013
Sandra Bullock and "Game of Thrones" actress Natalie Dormer both wore black to the recent UK premiere of the new film "The Heat" in London.
Bullock, who plays an FBI agent in the female buddy cop comedy movie, wore a multi-strap Victoria Beckham Spring 2013 maxi dress at the red carpet event, which took place on Thursday, June 13. Dormer, who does not appear in the movie, arrived at the red carpet event in a short-sleeve, above-the-knee ALICE by Temperley Pre-Fall 2013 dress with lace panels in the shoulder area.
06/07/2013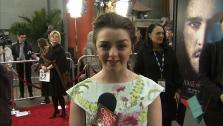 'Game of Thrones' star Maisie Williams (Arya Stark) talks season 3 (March 18, 2013, pre-'Red Wedding')
06/07/2013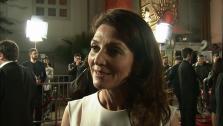 'Game of Thrones' star Michelle Fairley (Catelyn) talks season 3 (March 18, 2013, pre-'Red Wedding')
Sign up Stay Informed
Entertainment News