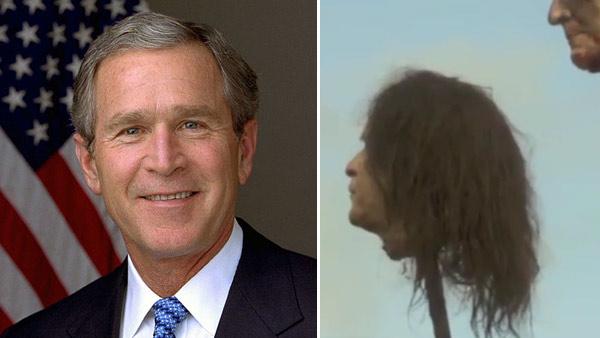 'Game Of Thrones' producers apologize for beheaded George Bush
06/14/2012 by Olivia Allin
Producers for HBO's "Game of Thrones" have apologized for using a model of former president George Bush's head on a spike in season one of the fantasy series. The scene in question occurs during the season finale, when King Joffrey Baratheon (Jack Gleeson) forces Sansa Stark (Sophie Turner) to look at the decapitated head her father (Sean Bean). On another head, Bush's distinct features are recognizable, though slightly obscured by a ratty brown wig. In the DVD commentary, show creators David Benioff and D.B. Weiss pointed out the head, which looks uncannily like the 43rd president. "The last head on the left is George Bush," the show runners said in the commentary. "George Bush's head appears in a couple of beheading scenes. It's not a choice; it's not a political statement. We just had to use whatever head we had around." Benioff and Weiss also released a statement on the controversial severed head scene. "We use a lot of prosthetic body parts on the show: heads, arms, etc. We can't afford to have these all made from scratch, especially in scenes where we need a lot of them, so we rent them in bulk," Benioff and Weiss said in a joint statement. "After the scene was already shot, someone pointed out that one of the heads looked like George W. Bush," Benioff and Weiss said. "In the DVD commentary, we mentioned this, though we should not have. We meant no disrespect to the former president and apologize if anything we said or did suggested otherwise." After the story went viral and a video of the commentary was
posted online on io9.com
, HBO released a statement on the
series' official Facebook page
: "We were deeply dismayed to see this and find it unacceptable, disrespectful and in very bad taste. We made this clear to the executive producers of the series who apologized immediately for this inadvertent careless mistake. We are sorry this happened and will have it removed from any future DVD production." "Game of Thrones" is based on George R. R. Martin's fantasy novels and debuted in April 2011. The series follows seven noble families as they fight for control of the mythical land of Westeros. Last year, the show was nominated for 13 Emmys.
Peter Dinklage won the Emmy for Best Supporting Actor In A Drama Series for his role as dwarf Tyrion Lannister
, marking his first win. The series also won an Emmy for Outstanding Main Title Design. The "Game of Thrones" season one DVD box set broke a sales record for HBO. The drama's second season premiered in the spring.
(Copyright ©2014 OnTheRedCarpet.com. All Rights Reserved.)
Sign up Stay Informed
Entertainment News