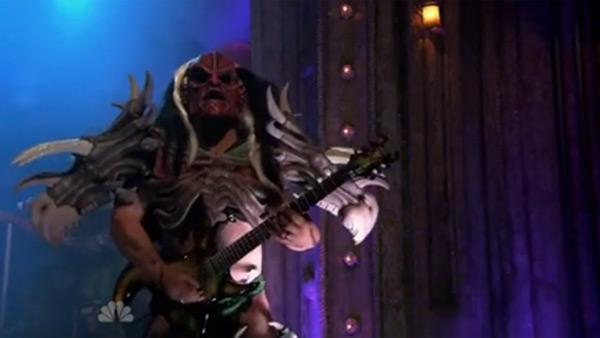 GWAR guitarist Cory Smoot dead at 34, found on tour bus
11/04/2011 by Corinne Heller
Cory Smoot, the lead guitarist for the costumed heavy metal group GWAR, who also went by the stage name Flattus Maximus, has died at age 34. His band members found his body on their "Ghoul" tour bus early on Thursday, November 3, after the group performed at the First Avenue club in Minneapolis. They tried to wake him up as the vehicle was approaching the border of Canada, where the group was set to perform as part of its "Return of the World Maggot" North American tour. "It is with a sense of profound loss and tragedy that the members of GWAR must announce the passing of their longtime guitarist and beloved friend Cory Smoot, also known to thousands of metal fans worldwide as Flattus Maximus," band frontman
Dave Brockie , whose nickname is "Oderus Urungus," said in a statement carried by the music website Billboard
. "There is no word as to the cause of death and the members of GWAR are completely shocked and devastated that this has occurred," he said. During performances, Smoot had sported a red mask, shoulder pads resembling dinosaur heads and reptile-like shoes.
Brockie had said on his Twitter page on Wednesday that the group had had an "amazing show" in Minneapolis
and planned to take Thursday off. Smoot joined GWAR in 2002. He also performed as a solo artist as part of what he called The Cory Smoot Experiment. "At this point there is no word on arrangements and the disposition of the remainder of GWAR's current North American tour, nor are there any details regarding long term plans," Brockie told Billboard. "At this point we are just dealing with the loss of our dear friend and brother, one of the most talented guitar players in metal today."
The First Avenue club's Twitter page featured a condelence message
on Thursday, saying: "We are deeply saddened to hear of the loss of Cory Smoot. Our thoughts are with our friends GWAR, their family and friends." Gwar, a Grammy-nominated band, was founded in the 1980s in Virginia. It was once featured in the hit 1998 movie "Can't Hardly Wait" and recently performed on NBC's "Late Night with Jimmy Fallon," just before Halloween (see above photo).
(Copyright ©2014 OnTheRedCarpet.com. All Rights Reserved.)
Sign up Stay Informed
Entertainment News