Entertainment News: frank ocean
04/24/2013
Christina Aguilera appeared at the TIME 100 Gala on Tuesday, April 23, 2013, in a cut-out, black, Victoria Beckham dress.
She was joined on the red carpet by Lena Dunham, Olivia Munn, Claire Danes, Jessica Biel, Justin Timberlake, Mia Farrow, Barbara Walters, Marissa Mayer, Ricky Gervais, Bryan Cranston, Jimmy Kimmel, Jimmy Fallon, Roma Downey and more. Check out photos.
More frank ocean
02/02/2013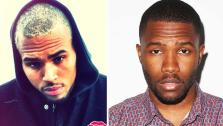 Frank Ocean says he will not be pressing charges against Chris Brown after the two singers got into a fight outside of a recording studio in Los Angeles last month.
Ocean, a Grammy-nominated singer/songwriter who released his first studio album "Channel Orange" last year, wrote about the incident on his Tumblr blog that was linked to from his verified Twitter account on Saturday, February 2. He also said that he forgives Brown.