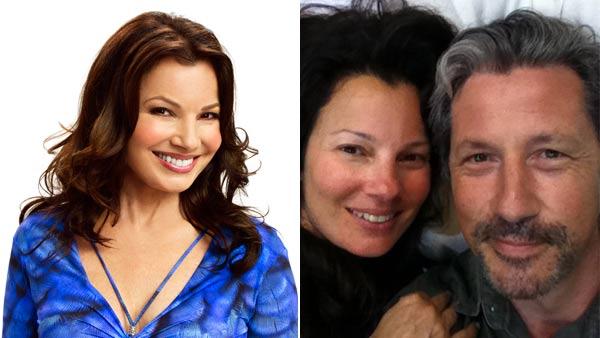 Fran Drescher to reunite with Charles Shaughnessy aka 'Mr. Sheffield' on 'Happily Divorced'
07/26/2011 by Kristina Lopez
Fran Drescher is looking to recreate some small screen magic with her former "Nanny" co-star Charles Shaughnessy. The actor, who is best known for his role as Mr. Sheffield on "The Nanny," will guest star on season finale of Drescher's new series "Happily Divorced," according to a statement released by TV Land. Shaughnessy will play a character named Greg, who both Dreshcher's character and her gay ex-husband Peter (played by John Michael Higgins) want to date. The actor once had a guest stint on Drescher's other sitcom, "Living With Fran." He has also appeared in shows like "Mad Men" and "Days of Our Lives" and voices Land Rover commercials. Drescher posted a recent photo of herself with Shaughnessy
on her Twitter page on July 20
(see above), with the cryptic message, "look who I get to play with all week, " insinuating the actor would appear on her new series. In the series, the 53-year-old actress plays a Los Angeles florist named Fran who is forced back into the dating pool after learning her husband of 18 years, Peter, is gay. Since neither of them can afford to move out of their home, they're stuck living together which makes moving on with her new man Elliot (guest star D.W. Moffett) difficult. The show also stars Tichina Arnold as Fran's best friend and Rita Moreno and Robert Walden as her parents. Renée Taylor, another "Nanny" co-star who played Fran's mother on the 90s sitcom, will also appear on an upcoming episode as an old friend of Moreno's character. The series
was officially renewed for a second season on July 20
. The network ordered another 12 episodes of the comedy, which is tentatively scheduled to premiere in the spring 2012 season. The show, which premiered on June 15, has averaged over 2.2 million total viewers. The storyline for the show was inspired by Drescher's real-life marriage of 21 years to Peter Marc Jacobson,
who came out of the closet after their divorce in 1999
. Jacobson and Drescher co-created the series and also worked together on "The Nanny" and "Living With Fran." Initially, Drescher planned to only write and produce the "Happily Divorced," but she eventually decided to star in the series as well. TV Land ordered 10 episodes of the series in March. Like early episodes of "The Nanny," the show was taped before a live studio audience.
(Copyright ©2014 OnTheRedCarpet.com. All Rights Reserved.)
Sign up Stay Informed
Entertainment News