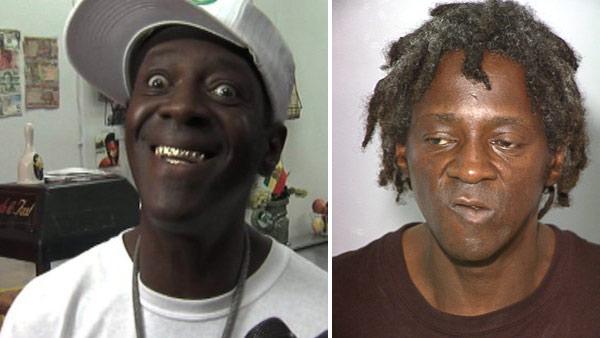 Flavor Flav to fight criminal charges for alleged assault with deadly weapon, battery
10/22/2012 by Kristina Lopez
Flavor Flav will fight the criminal charges he faces from a recent arrest.
An attorney for the rapper and reality star told The Associated Press on Monday, October 22, that Flavor Flav, whose real name is William Jonathan Drayton, will fight his felony assault with a deadly weapon and misdemeanor battery domestic violence charges he was arrested for on October 17.
The arrest came after a confrontation with his fiancee, Elizabeth Trujillo, and her teenage son. The lawyer, Tony Abbatangelo, also said the 53-year-old intends to seek reconciliation with Trujillo.
The incident took place at his house in Las Vegas, where he maintains a restaurant. Police received a call at about 3:30 a.m. on October 17 from the residence. The caller told officers "she had been involved in a physical altercation with her fiance," who was identified as Drayton, according to the Las Vegas Metropolitan Police Department statement obtained by OTRC.com.
"It was also reported that after the physical altercation, Drayton had threatened his fiancee's teenage son with a knife," the statement said. "After an investigation, Drayton was arrested and charged with battery domestic violence and assault with a deadly weapon.
The rapper was released from police custody after posting a $23,000 bond. He could face up to six years in prison if convicted of the assault charge and six months in jail on the domestic battery charge.
"They've been together a long time, and they want to work this out," Abbatangelo told the wire service. "We want what's best for the family."
Trujillo, 39, told police her earring was ripped out during the incident that she said stemmed from an argument over infidelity. Trujillo told police her son intervened after Drayton grabbed her and twice threw her to the ground. Drayton told the arresting officer he scuffled with Trujillo and her son but denied chasing or threatening the teen.
This is not the first time Drayton has had trouble with the law. He spent a month in jail for assaulting his then-girlfriend in 1991. He also spent three months in prison for shooting at a neighbor in New York in 1993. Last year, he was arrested for having outstanding traffic warrants.
The judge set an evidence hearing on November 20.
Flavor Flav rose to fame with the group Public Enemy and also starred in the VH1 dating show "Flavor of Love." Last year, the rapper, a culinary school alum and son of parents who owned a diner, opened a chicken eatery called Flav's Fried Chicken, or FFC, in Iowa. It shut down within months.
In March, he opened a new chicken restaurant, House of Flavor, in Las Vegas. Check out OTRC.com's exclusive look and interview with Flavor Flav.
(Pictured above: Flavor Flav talks to OTRC.com at his House of Flavor restaurant in Las Vegas in March 2012. / Flavor Flav appears in a booking photo after he was arrested in Las Vegas on Oct. 17, 2012.
(Copyright ©2013 OnTheRedCarpet.com. All Rights Reserved.)
Sign up Stay Informed
Entertainment News