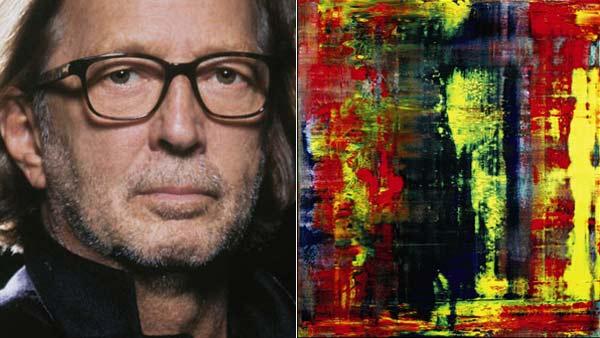 Eric Clapton sells Gerhard Richter painting for $34 million
10/15/2012 by Olivia Allin
Eric Clapton sold an abstract painting by Gerhard Richter for nearly $31 million more than he bought it about ten years ago.
The piece, "Abstraktes Bild (809-4)" by the German painter was part of Clapton's personal collection and sold for $34 million, the highest amount ever paid for a work done by a living artist, according to Sotheby's in London.
Clapton purchased the 1994 painting, along with 2 other Richter paintings from the same series, for $3.4 million in 2001. Sotheby's, who conducted the auction on Friday, October 13, estimated that it would go for between $14 and $19 million. Another painting from Richter's 809 four-part series sold for $3.1 million.
The sale beat out the past record-holding auction, Jasper John's painting "Flag," which was sold for $28.6 million in 2010, by Christie's in New York.
Clapton, a three-time Rock and Roll Hall of Fame inductee, is known for songs like "Layla," "Crossroads" and "Strange Brew," "Cocaine," "Sunshine of Your Love" and "Wonderful Tonight."
His song "Tears In Heaven" earned him three Grammy Awards for Song of the Year, Record of the Year, and Male Pop Vocal Performance. He also won another three Grammy Awards for "Unplugged" and "Layla."
Richter, 80, is known for both his abstract and photorealistic paintings, as well as photographs and glass works. He lives in Cologne, Germany, with his third wife, Sabine Moritz.
(Copyright ©2013 OnTheRedCarpet.com. All Rights Reserved.)
Sign up Stay Informed
Entertainment News