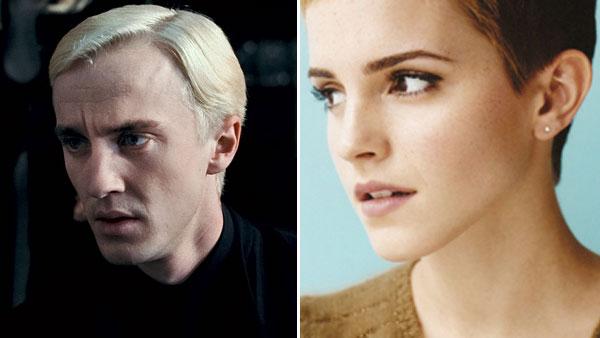 Emma Watson reveals she had 'a huge crush' on 'Harry Potter' co-star
06/28/2011 by Kristina Lopez
Though Hermione Granger would've likely scoffed at this idea, Emma Watson says she once had "a huge crush" on her "Harry Potter" co-star Tom Felton, who stars as the nefarious Draco Malfoy in the films. "For the first two movies, I had a huge crush on Tom Felton. He was my first crush," Watson tells Seventeen magazine in the August issue, according to
People
. "He totally knows. We talked about it. We still laugh about it. We are really good friends now, and that's cool." In the "Harry Potter" movies and books, Malfoy, whose parents are both wizards, often insults Granger, born to a human couple, by calling her a "Mudblood," which is deemed a derogatory term. The two do not become romantically involved, but fans have for years created websites and written stories depicting a romance between them. Watson is chatting to the media for "Harry Potter and the Deathly Hallows: Part 2," which comes out on July 15, 2011. The 21-year-old
was named the new face of Lancome
this year and is currently working on a starring role in "Perks of Being a Wallflower," slated for release in 2012. She recently talked about how her fame made it difficult for her to date. "I say to my friends, 'Why hasn't X called me? Why doesn't anyone ever pursue me?' They're like, 'Probably because they're intimidated.' It must be the fame wall," Watson told
Sunday Times Style Magazine
earlier this month. "It must be the circus that goes around me. Me, as a person, I find it hard to believe I would be intimidating." In March,
the actress announced on her official website that she was taking time off
from the Rhode Island-based university to focus on her career and shot down rumors she was being bullied at the school.
(Copyright ©2014 OnTheRedCarpet.com. All Rights Reserved.)
Sign up Stay Informed
Entertainment News