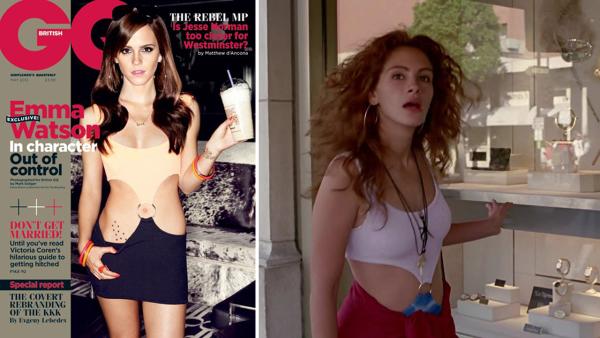 Emma Watson channels 'Pretty Woman' on GQ cover, talks 'Bling Ring' (Photo)
04/02/2013 by Corinne Heller
Emma Watson channels Julia Roberts' "Pretty Woman" hooker look on the cover of British GQ magazine's May 2013 issue. No, the 22-year-old actress, who rose to fame as the prim and proper Hermione Granger in the "Harry Potter" films, is not reinventing herself. She is dressed as her character Nicki from Sofia Coppola's new film "The Bling Ring. Watson sports a tight, cutout cream and navy blue mini-dress with a tank top attached with a ring to the skirt. She pulls it down to show off a dotted design on her lower stomach. She also wears more bling -- large hoop earrings -- and holds a blended coffee drink as she stares straight at the camera. Roberts sported a similar look in parts of the 1990 film "Pretty Woman," in which she played a hooker with a heart of gold. Watson's character's intentions in "The Bling Ring" are not so golden. Nicki is, according to GQ, a "pole-dancing, thieving Valley vixen." She is a member of a celebrity-obsessed group of teenagers and young adults who rob stars' homes in Los Angeles. The movie is based on actual robberies that took place at the houses of celebrities such as Lindsay Lohan and Paris Hilton between 2008 and 2009. "When I read the script and I realized that essentially it was a meditation on fame and what it's become to our society, I had to do it," Watson told
GQ
. "The character is everything that I felt strongly against - she's superficial, materialistic, vain, amoral." "She's all of these things and I realized that I hated her," she added about Nicki. "How do you play someone you hate? But I found it really interesting and it gave me a whole new insight into what my job, or my role as an actress, could be." Coppolla directed and wrote "The "Bling Ring," which also stars Leslie Mann -- who portrays Watson's character's mother, Bush singer Gavin Rossdale and Taissa Farmiga, the younger sister of actress Vera Farmiga, who is also known for her role as Violet Harmon in the FX series "American Horror Story." "Filming 'Bling Ring' is going great," Watson said on April 3 on her
Facebook
page. "It's so amazing to get to play a real character. And I get to be funny! Awesome!"
(Pictured above: Emma Watson appears on the cover of British GQ's May 2013 issue. / Julia Roberts appears in a scene from the 1990 film "Pretty Woman." Credit: Conde Nast / Touchstone Pictures)
Watch a trailer for "The Bling Ring," which is rated R for teen drug and alcohol use, language and sexual references.
(Copyright ©2014 OnTheRedCarpet.com. All Rights Reserved.)
Sign up Stay Informed
Entertainment News