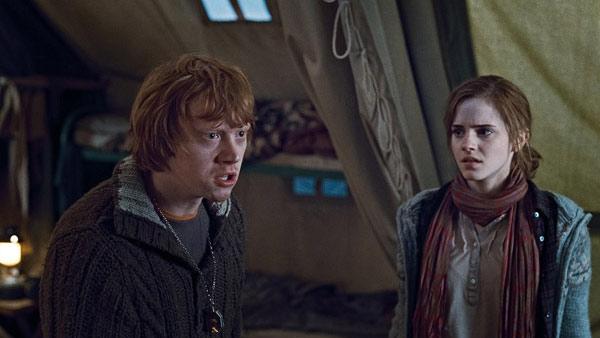 Emma Watson and Rupert Grint dreaded kiss in 'Harry Potter and the Deathly Hallows'
11/19/2010 by Corinne Heller
Rupert Grint says he and Emma Watson did not look forward to their onscreen kiss in "Harry Potter and the Deathly Hallows - Part 1".
The first part of the final film in the hit fantasy series, which stars Daniel Radcliffe in the title role of the teen wizard, was released on Friday and made more than $24 millionmade in overnight screenings, breaking a record for the franchise.
Grint, 22, plays his friend Ron Weasley and Watson, 20, plays their mutual friend and Weasley's love interest, the brainy Hermione Granger. They had starred with Radcliffe, 21, in all the films since they were children, beginning with the first one in 2001.
"It was actually okay," Grint told People magazine, when asked about their onscreen smooch. "It was just the anticipation. Neither of us were looking forward to it. It sounds crazy. Emma's amazing. "I've seen her grow up and known her since she was nine. It just doesn't feel right."
The movie marks the first part of the final showdown between the teen wizard Harry Potter, played by Radcliffe, and his arch-nemesis, the evil Voldemort.
Watson, who plays his friend Hermione Grander, told OnTheRedCarpet.com she was surprised at how "bloody good" the latest film is, adding, "For me I was just blown away by the fact that we have managed to make it better again."
"It's intense from the minute it comes on, it's really dark, it's really scary, and it's just the most real and visceral and exciting one yet I think," Watson said. "The best thing I've heard people say is that it really makes them feel something. It's got a lot of heart, which is cool."
The second part of "Harry Potter and the Deathly Hallows" will be released in both 2D and 3D formats on July 15, 2011.
last week. Its studio, Warner Bros said in a statement to OnTheRedCarpet.com that the leak was illegal and "constitutes a serious breach of copyright violation and theft of Warner Bros. property".
Sign up Stay Informed
Entertainment News