Entertainment News: eminem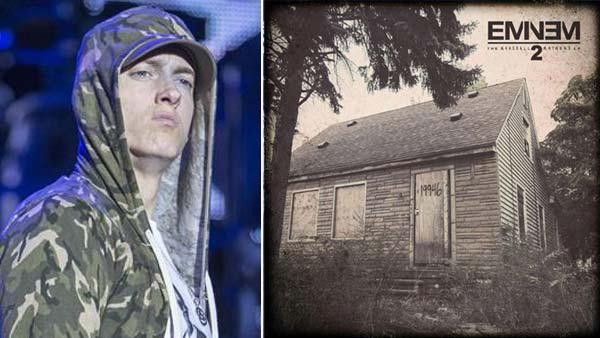 11/08/2013
A fire has burned the childhood home of rapper Eminem in Detroit.
The Detroit News and Detroit Free Press report crews responded Thursday evening to the boarded-up bungalow, which is pictured on the cover of Eminem's just-released "The Marshall Mathers LP 2." It also was on the musician's 2000 album "The Marshall Mathers LP."
More eminem
05/16/2013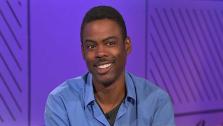 Chris Rock, an actor and comedian known for his controversial jokes, may be stepping behind the mic.
Rock, 48, has dropped some major hints that he's set to appear on a track for Eminem's upcoming album -- and now, a photo that he posted on his official WhoSay account is sending people into a frenzy (See photo below).
08/10/2012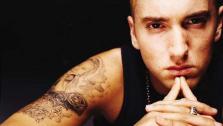 Eminem thanks fans for helping him through the hard times, after battling an addiction to prescription drugs.
The rapper made his comments at a concert in New York on Thursday, August 9, telling hundreds of fans that he "wouldn't have gotten out of that dark place without y'all," before playing his Grammy-winning single, "Not Afraid," according to the Associated Press.
08/01/2012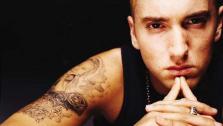 Eminem has become the first person to hit 60 million likes on Facebook and has now become the most popular person on the social networking site, dead or alive.
The rapper has surpassed music heavyweights Lady Gaga, Michael Jackson, Rihanna and Justin Bieber as the most popular person on the social networking site ever, according to Mashable.com.
02/14/2011
The winners of the 53rd Annual Grammy Award were announced at the Staples Center in Los Angeles on Sunday, Feb. 13, 2011 and Lady Antebellum came up the big winners.
The country music group took home Record of the Year, Song of the Year and Country Album for "Need You Now." Indie rock group Arcade Fire took home the big prize of Album of the Year for their critically acclaimed album "The Suburbs" and rapper Eminem also nabbed two awards for Rap Album for "Recovery" and Rap Solo Performance for "Not Afraid." Check out the list of winners below:
01/05/2011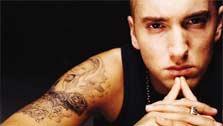 Eminem has become the first person to hit 30 million likes on Facebook and is the most popular person on the social networking site, dead or alive.
02/14/2011
With non-stop performances and big wins for Lady Antebellum, Lady Gaga and Arcade Fire, the 2011 Grammys provided ton s of buzz worthy moments.
Academy Award-winner Gwyneth Paltrow hit the stage with Cee Lo Green to perform a duet of his song "Forget You," which she sang during her guest stint on "Glee." The actress and Cee Lo, who won an award for Best Urban/Alternative Performance for his song, got some help from Jim Henson Company Puppets.
12/15/2010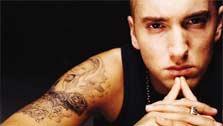 With 2010 ending in success for Eminem, including 10 Grammy Award nominations, the rapper is eyeing a return to the big screen.
The Hip-hop star earned praise for his acting in 2002's semi-biographical "8 Mile" and now word comes that he is in talks to star in "Southpaw" as a welterweight fighter who must overcome tragedy when he faces the title bout.
12/11/2010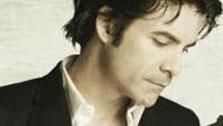 iTunes released their best-selling figures of 2010 and Train's "Hey, Soul Sister" was the biggest single according to The Hollywood Reporter.
12/09/2010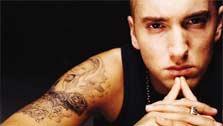 Eminem's record "Recovery" has been named the No. 1 album of 2010 by Apple's digital music store iTunes, following by Ke$ha's "Animal" and Lady Gaga's "TheFame".
Train's song "Hey, Soul Sister" was determined to be the best-selling iTunes single of the year. The 2009 track has been featured on Samsung commercials and various television shows and was recently covered on the FOX musical sitcom "Glee". No. 2 on the list is Katy Perry's "California Gurls".
12/01/2010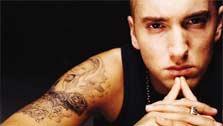 The nominees for the 53rd Annual Grammy Award were announced live during a television special on Wednesday and Eminem, Katy Perry, Carrie Underwood and Justin Bieber are just some of the artists are up for Grammy Awards in 2011.
Rapper Eminem leads the pack with a whopping 10 nominations including song and record of the year for his duet with Rihanna "Love The Way You Lie." Check out the full list of nominations below.
Sign up Stay Informed
Entertainment News