Entertainment News: ellen page
02/14/2014
Ellen Page has come out publicly as gay, saying that she is "tired of hiding," in comments made during an emotional and inspiring speech that spurred a standing ovation.
The 26-year-old Canadian actress, who received an Oscar nomination for her portral of a pregnant teen in the 2007 movie "Juno," made her comments on stage at the Human Rights Campaign's inaugural Time To THRIVE conference, which promotes "safety, inclusion and well-being for LGBTQ youth," at Bally's Resort & Casino in Las Vegas on Friday, Feb. 14 -- Valentine's Day.
More ellen page
08/06/2012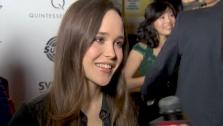 "Juno" actress Ellen Page has received alarming death threats on Twitter over her reported relationship with Alexander Skarsgard, which sparked a police investigation.
The Los Angeles Police Department confirmed to OnTheRedCarpet.com that they have an active investigation in the case, which started in June, shortly after she was spotted attending the Stanley Cup Playoffs with the "True Blood" actor.
Sign up Stay Informed
Entertainment News