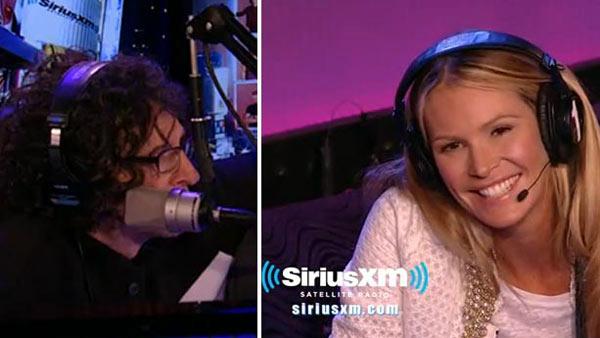 Elle MacPherson calls Howard Stern 'absolutely Jewish' during radio interview
03/13/2012 by Corinne Heller
Elle MacPherson had an awkward exchange with shock jock Howard Stern during a recent interview on his Sirius XM show, during which she called him "absolutely Jewish." The 47-year-old Australian supermodel, who is promoting her new NBC show "Fashion Star," had made the comment on Tuesday, March 13. The radio star, whose parents are Jewish, asked her about typical sexual issues he is known to discuss on his show, such as grooming preferences, before they began to chat about a racy photo of herself that she said she keeps in the bedroom of her London home. The picture was shot in the 1990s, when she was at the peak of her modeling career. She told Stern that it shows her from behind, wearing a gun holster around her waist. "That's it?" Stern asked. "That's what I'm wearing," she said. "Do your children get upset by that?" he asked. "I have a 14-year-old son. What do you think he thinks about right now?" she answered, referring to her son Arpad, who is named after her ex-boyfriend, Arpad Busson. The two also have a 9-year-old son, Aurelius. "But he's probably upset his mother's ass in is the bedroom and if the kids' going to have a friend-" Stern began, before MacPherson cut him off. "No, I think you're just being absolutely Jewish," she said. "Why is that Jewish?" Stern asked. "Because you're being overprotective. You sound like a nagging mother. 'Should you have that picture in your room? Your 14-year-old son could look at that?' My children are very well-balanced," the supermodel responded. She then went on to diss Stern over his looks. The
radio star, who is also set to appear on the next season of NBC's "America's Got Talent" as a new judge
later this year, is known for his tall frame and shaggy, curly dark hair. "I once saw my mother come out of the shower. It traumatized me," he joked. "Yeah, I can imagine, if she looks like you," MacPherson said, drawing mock gasps from Stern and his sidekick, Robin Quivers. "Sorry! That just slipped out!" she added. "You're the meanest, cruelest woman on the planet," Stern joked. The supermodel also said during her interview that she has dated Jewish men in the past.
MacPherson also stirred controversy in 2010 when she told a UK newspaper that she consumed powdered rhino horn for medicinal purposes
. Her comments prompted criticism from animal rights groups, including PETA. She later said she regretted "any distress or offense" taken by her remarks and that she "never knowingly consumed or encouraged the use or consumption of any products which contain material derived from endangered species." In ancient Chinese Medicine, ground-up rhino horns are used to treat fever, gout, snakebites, hallucinations and other ailments. However, the use of them is illegal worldwide by the Convention on International Trade in Endangered Species and the rhino trade has been prohibited since 1977. MacPherson serves as the host of "Fashion Star," a reality competition show that also features Jessica Simpson, Nicole Richie and John Varvatos. The series premieres on Tuesday at 9:30 p.m. ET. "I will tune in, see what you're wearing and if it's hot ... I'll stay with the show," Stern said on his show on Tuesday." MacPherson previously presented the sixth season of "Britain & Ireland's Next Top Model" and starred on Ashton Kutcher's short-lived show "The Beautiful Life." The CW series premiered in 2009 and was supposed to mark a comeback for "O.C." star Mischa Barton but was canceled after two episodes due to low ratings.
(Copyright ©2014 OnTheRedCarpet.com. All Rights Reserved.)
Sign up Stay Informed
Entertainment News