Entertainment News: elizabeth banks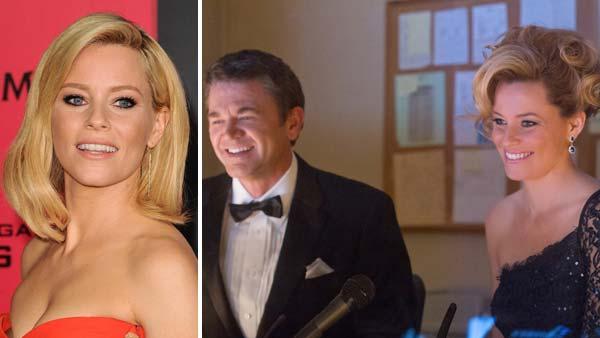 01/28/2014
Elizabeth Banks is set to have an "aca-awesome" directorial debut.
The actress has been announced as the director of "Pitch Perfect 2," the sequel to the highly successful 2012 musical comedy movie. This will mark Banks' first time directing a feature film. No casting announcements have been made as of press time.
More elizabeth banks
11/22/2013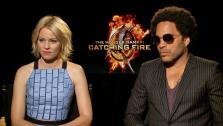 Elizabeth Banks and Lenny Kravitz play two of the most fashionable characters in "The Hunger Games" franchise.
Banks plays Effie Trinket, the escort for tributes from District 12 who is known for her posh and eccentric fashion style. Kravitz plays Cinna, Katniss' stylist during the 74th and 75th Hunger Games.
11/12/2013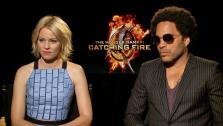 Elizabeth Banks and Lenny Kravitz talked to OTRC.com recently about the fashion featured in 'Catching Fire.'
06/29/2012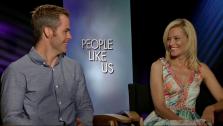 Elizabeth Banks and Chris Pine star in the new film "People Like Us" and the actors dished about the film's real life inspiration and how they pick what roles to take on in their careers.
"I think that it's really important to say that although this is based on Alex's [Kurtzman] -- our writer/director's real life experience, there's an incredible among fictionalized," Pine told OnTheRedCarpet.com correspondent George Pennacchio in a recent interview. "So for instance, Alex's sister was not in AA, she wasn't a single mom and a lot of the drama that unfolds for dramatic purposes wasn't precisely what happened to Alex."
06/28/2012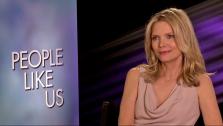 Michelle Pfeiffer chats about her role in the new indie drama 'People Like Us' and filming in Los Angeles.
06/25/2012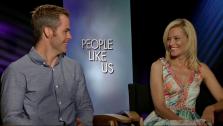 Chris Pine and Elizabeth Banks talk to OnTheRedCarpet.com about 'People Like Us.'
06/25/2012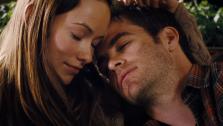 Watch the trailer for 'People Like Us,' which stars Chris Pine, Elizabeth Banks and Olivia Wilde.
03/25/2012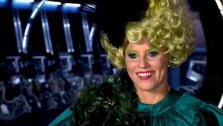 Elizabeth Banks said she stalked producers to score the role of Effie in 'The Hunger Games' after reading the books.
"I just love Effie. She's a lovable villain and it's very hard to find those and be fun and have as much fun as I did," Banks told OnTheRedCarpet.com at the film's premiere. "I was a huge fan of the books and of Suzanne Collins - the creator of this entire pandemonium."
03/22/2012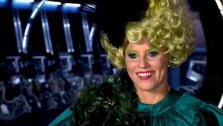 Elizabeth Banks talks about her 'Hunger Games' casting, in an interview provided by the studio.
03/12/2012
The premiere of "The Hunger Games" in Los Angeles on March 12 brought some of the best fashion from Hollywood stars like Jennifer Lawrence, Elizabeth Banks and Miley Cyrus.
Lawrence, who stars in the movie as the protagonist Katniss Everdeen, donned a nearly backless gold gown by Prabal Gurung.
08/17/2011
Elizabeth Banks wowed in an edgy mini-dress at the New York screening for her new movie "Man on a Ledge" on January 19.
Banks, 37, attended the red carpet event shortly following her "Late Night With David Letterman" appearance, and didn't disappoint. Banks showed up in a black Versace mini-dress from the Spring 2012 collection. The dress featured gold and black embellishments, and almost looked gladiator-inspired. She finished the look with black tights, sultry makeup and a flirty, short hairstyle.
08/29/2011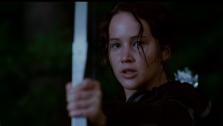 Check out a teaser clip of 'The Hunger Games,' a fantasy film starring Jennifer Lawrence as Katniss.
08/27/2011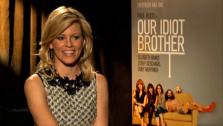 In her latest film, "Our Idiot Brother" actress Elizabeth Banks is surrounded a cast of good friends, which she said, made it an easy choice for her to sign on to the project.
"This movie was such an easy yes because the cast is amazing and we're all sort of friends," the actress said in an interview provided by The Weinstein Company. "This is my fifth movie with Paul Rudd."
The two actors have teamed up in films like "The 40-year-old Virgin," "Wet Hot American Summer," "The Baxter" and "Role Models."
08/17/2011
Elizabeth Banks went retro for the Hollywood premiere of "Our Idiot Brother" on August 16, wearing a pink and black color-block Prada dress.
Banks accessorized the crystal-encrusted Prada dress from the label's Resort 2012 collection with a pink Prada clutch and black Miu Miu suede peep-toe pumps. What do you think of Elizabeth Banks' red carpet look? Vote in our poll.