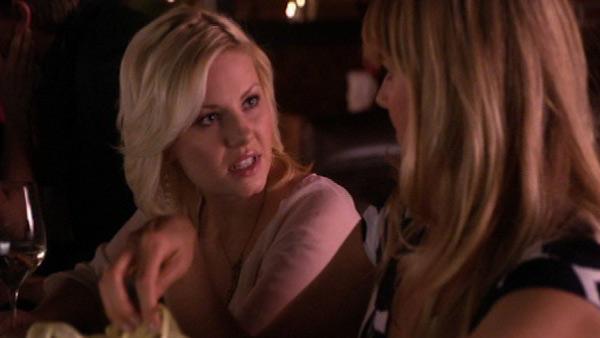 Elisha Cuthbert's new ABC show, 'Happy Endings,' marks strong debut
04/14/2011 by Corinne Heller
The debut of "Happy Endings," ABC's new comedy series starring "24" actress Elisha Cuthbert, was watched by 7.27 viewers and drew a 2.7 rating among people aged 18 to 49, according to preliminary estimates. A second episode that following straight afterwards on Wednesday, April 13 earned a 2.3 rating and drew 5.72 million viewers, giving
ABC its best 18-49 numbers in that timeslot in 13 weeks and its best 18-34 demo rating in more than a year, TVLine.com
reported. On the show, Cuthbert plays Alex, a woman who leaves her fiance Dave at the altar before their wedding. The program shows how the split affects the couple and their friends, including housewife Jane (Eliza Coupe from "Scrubs") and her husband Brad (Damon Wayans, Jr.), gay friend Max (Adam Pally) and Penny (Casey Wilson from "Saturday Night Live"), who has trouble finding the right guy herself.
"Alex is kind of just I think at a place in her life where she's kind of rediscovering," Cuthbert, 28, said
in an interview provided by ABC. "It's not a mid-life crisis, it's a little bit before the mid-life crisis where it's like, she thought she had everything put together but really did not." Zachary Knight, who appeared on the short-lived ABC sci-fi show "FlashForward," plays Dave on "Happy Endings." On "24," FOX's hit spy series that ran between 2001 and 2010, Cuthbert played the daughter of Kiefer Sutherland's character, Jack Bauer. She also appeared in movies such as "Old School" in 2003 and "The Girl Next Door" in 2004. She also starred in the crime series "The Forgotten" with Christian Slater between 2009 and 2010.
(Copyright ©2014 OnTheRedCarpet.com. All Rights Reserved.)
Sign up Stay Informed
Entertainment News