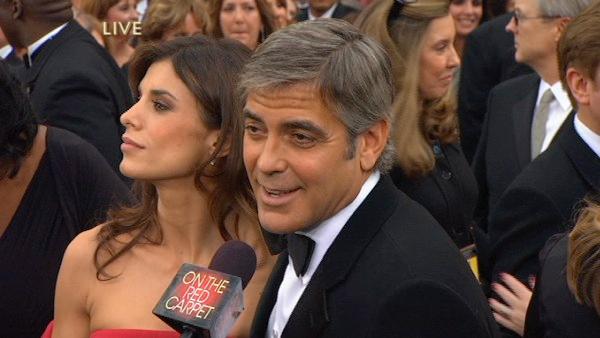 Elisabetta Canalis defended by George Clooney
09/29/2011 by Olivia Allin
Elisabetta Canalis has had a rough week after being booted off of "Dancing With The Stars" and being accused of sending her ex-boyfriend George Clooney nasty test messages. But the "Ides of March" actor stood up for Canalis, denying reports that she had lashed out at him for moving on with his new girlfriend, Stacy Keibler. Us Weekly claimed that the 32-year-old Italian actress and model had been angered over Clooney's swift turnaround but Clooney
told the entertainment site TMZ
that the story was "completely fabricated in order to sell magazines. I never comment on my personal life unless it affects others... and this lie affects others." "Since I would be the only actual witness, I ask you to correct your story immediately, but that would assume you cared at all about telling the truth," Clooney continued. Canalis, who was eliminated from ABC's hit dancing competition series on Tuesday, told OnTheRedCarpet.com that the experience had been a "gift." "This was a competition so you accept this fact," Canalis told OnTheRedCarpet.com after Tuesday's results show. "It's okay. We are out but for me, it was a gift." The two earned 21 points out of 30 for their Quickstep on Monday. Their score was not the lowest among the other 11 contestants during Monday's performance episode. Chaz Bono and partner Lacey Swimmer were on the bottom of the leader board, earning 17 out of 30 points for their Quickstep (read a
recap of the episode
). An OnTheRedCarpet.com poll posted on Monday showed both pairs are the most likely to be eliminated from the ABC ballroom dancing show.
Clooney is currently dating former WWE star Stacy Keibler and the two stepped out together at the Toronto Film Festival
earlier this month, where the actor was promoting "Ides of March," which is slated for release on October 7 (see
photos from the event
).
(Copyright ©2014 OnTheRedCarpet.com. All Rights Reserved.)
Sign up Stay Informed
Entertainment News