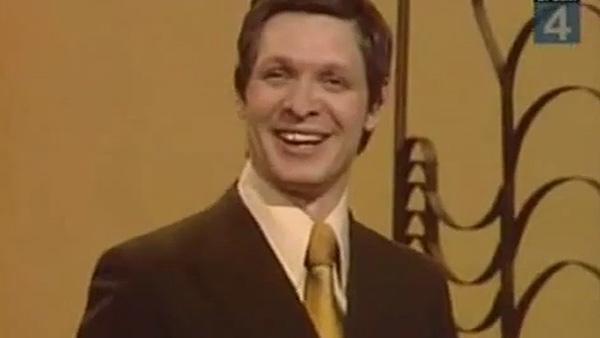 Eduard Khil, 'Mr. Trololo' and YouTube star, dies at age 77 (Videos)
06/04/2012 by Corinne Heller
Eduard Khil, a Soviet crooner whose 1976 performance of a song dubbed "Trololo" became a viral hit on YouTube in 1010, had died at age 77.
The singer passed away on Monday, June 4, in St. Petersburg, Russia, the Associated Press reported. The cause of his death was a stroke he had suffered in early April, which had left him with severe brain damage it said. He had been hospitalized ever since.
Khil was born on Sep. 4, 1934 in the Russian town of Smolensk and rose to fame in the 1960s and 1970s in his native Soviet Union. His popularity faded after the Soviet Union collapsed in 1991. Almost 20 years later, in 2010, a YouTube video of him lip-synching the wordless song "I'm Very Glad That I'm Finally Coming Home" became an instant hit, earning him the nickname "Trololo Man" or "Mr. Trololo."
The original lyrics of the track centered around a cowboy riding a mustang in Kentucky, but were deemed too un-Soviet and too pro-Western, so Khil was made to perform the song by yodeling vocalizations that sounded like "Da da daaaaaa" and "Lololooooooo."
The 2010 "Trololo" clip and several copies of it have been viewed more than 14 million times and the video made No. 9 on Time magazine's list of "The Top 10 Everything of 2010." In June of that year, Khil performed the song at a Moscow nightclub, while audience members joined in.
The "Trololo" song has been parodied several times, including on the ABC late night talk show "Jimmy Kimmel Live!." On a 2010 episode, a mock documentary of new Oscar winner Christoph Waltz of "Inglorious Basterds" was shown and depicted the actor as the singer of the fictional song "Der Humpink." He humps various inanimate objects while performing the song.
Khil, who is survived by a wife and son, was once dubbed the "People's Artist of the Russian Soviet Federative Social Republic." Russian Prime Minister Dmitry Medvedev said in a statement that the death of the "outstanding singer" marks an "irreplaceable loss for our culture," adding that his songs were "dear to people of different generations, loved not only in our country, but also abroad," according to The Moscow Times.
Khil had learned about his newfound fame as a YouTube star from his grandson, according to The Voice of Russia, which quoted him as saying: "He came to me and said: 'Grandpa, you have millions of views on the Internet. Do you remember that song of yours? It is very popular now.' He then told me that the song was very popular in the United States of America."