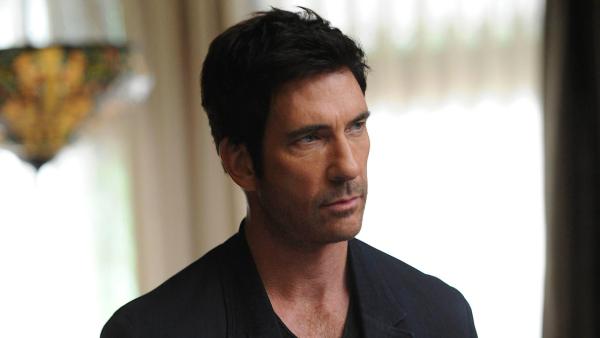 Dylan McDermott's mother was murdered, police investigation concludes
06/25/2012 by OnTheRedCarpet.com Staff
The mother of actor Dylan McDermott was murdered by her boyfriend, police conclude after recently reopening the case for investigation.
The police in Waterbury, Connecticut, reopened the investigation of Diane McDermott's death last year after the actor contacted them with questions. The Republican-American newspaper featured a two-part series report about the investigation on June 24 and June 25, according to The Associated Press.
McDermott was 5 years old when his mother was killed after getting shot in 1967. The death was originally ruled an accident, but police told The Republican-American newspaper that they found enough evidence during their reinvestigation to file murder charges against Diane McDermott's boyfriend at the time, John Sponza.
Sponza, who lived with McDermott in 1967 and had ties to the mob, told authorities that Diane McDermott accidently shot herself after picking up a gun he had been cleaning. Sponza was killed in 1972 and his body was found in the trunk of a car in a grocery store parking lot in Waltham, Massachusetts.
The Connecticut medical examiner reviewed Diane McDermott's autopsy and found that the gun discovered near the body at the crime scene could not have been the weapon in the accident because the caliber was smaller than the weapon that killed her. The gun-shot wound on McDermott's body also reportedly showed that the weapon had been pressed to the back of the head.
"Sponza is telling the police that night that he very rarely, if ever, had arguments, yet everyone we spoke to, including Dylan, who was only 5 at the time, remembered very violent, vicious arguments," Police Superintendent Michael Gugliotti told the newspaper. "Dylan vividly recalls the amount of times, not only flashing the gun, but pointing it at the kid, saying, 'Shut up and get out of here.' He's still probably traumatized by that."
McDermott, 50, is likely best known for his roles in "Steel Magnolias," "The Practice" and "American Horror Story." The actor won a Golden Globe in 1999 for his work on "The Practice" and will next appear in "The Perks of Being A Wallflower," set for release on September 14.
The actor did not comment to the newspaper on the story but his sister Robin Herrera did. "I'm happy to know my mother wasn't mentally ill or depressed," Herrera said. "Somebody took her from us; she didn't leave us."
(Copyright ©2013 OnTheRedCarpet.com. All Rights Reserved.)