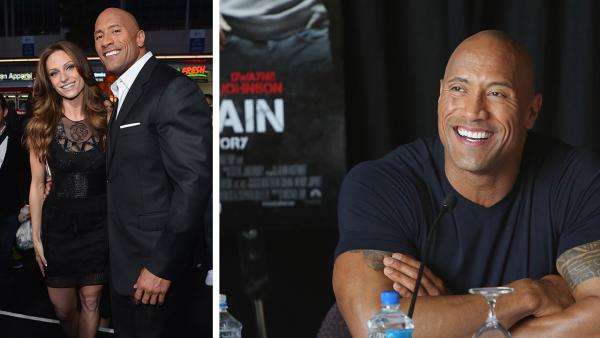 Dwayne Johnson talks 'Pain' film on Twitter 'RockTalk' - 7 highlights
04/26/2013 by Corinne Heller
Dwayne Johnson, aka the wrestler The Rock, participated in a Twitter chat with fans on Friday, April 26, to promote his latest movie, "Pain & Gain."
The film was released the same day and was directed by Michael Bay of "Transformers" fame. It stars Johnson, Mark Wahlberg and Anthony Mackie as Florida bodybuilders who plot to kidnap and extort a rich businessman, played by Tony Shalhoub.
Johnson, 40, talked to fans while recovering from his emergency hernia surgery, which he underwent on April 22. When asked about it, he Tweeted: "Rehab is coming along well. 3 hernias repaired leads to lots of swelling."
Check out 7 more things the actor revealed during the Twitter chat.
1. "The Rock" almost starred in "Transformers 4."
Nadya Denisova (@Nadyd) asked: "@TheRock i listened you will participate in "Transformers" movie. True or not? #RockTalk"
Johnson replied: "Michael Bay offered me Transformers, but I was unavailable due to Hercules. Then Wahlberg was offered the role."
(NOTE: Michael Bay announced in November 2012 that Mark Wahlberg would star in "Transformers 4.")
2. He plans to work with Mark Wahlberg again and wants to do another "Fast and the Furious" film.
Johnson made his debut in the hit "Fast and the Furious" franchise in "Fast Five," playing Luke Hobbs. He reprises his role in "Fast & Furious 6," which hits theaters on May 24. A seventh film is in the works and is set for release in 2014, the same year he is set to appear in a new "Hercules" film.
Mel Ehlert (@melehlert88) asked: "@TheRock do you have any projects in line after the filming of Hercules? Would be awesome to see you in the Ring again.. #RockTalk "
Johnson replied: "After Hercules, I'll partner up w/ Wahlberg - cool HBO project, then possibly FAST 7 - haven't decided yet on that."
Wahlberg served as an executive producer on one of HBO's most successful shows -- "Entourage," which ended in 2011 after eight seasons and was loosely based on his life in Hollywood.
3. Will Dwayne Johnson retire from wrestling?
Johnson's surgery took place weeks after he was injured during a wrestling match at WWE's Wrestlemania 29. The actor was beaten by John Cena, who took over his 2012 championship title.
tiger tomblin (@TigerTomblin) asked: "@TheRock. Was wrestlemania the last time we see the rock in the ring? #RockTalk"
Johnson replied: "Mania may have been my last match. The 3 year goal was to come in & elevate the @WWE. Then proudly 'do the honors.'"
4. Dwayne Johnson gained 15 pounds for "Pain & Gain."
Joel I.M. (@YoungSavage_VVV) asked: "@TheRock your aesthetics are off the charts! What was your diet like for #painandgain? #rocktalk"
Johnson replied: "My diet for #PainAndGain was 7 meals a day. I played an ex-con gaining 15lbs of dense prison yard muscle."
5. Dwayne Johnson KNOWS how to eat cereal.
Sean (@sthomas141) asked: "@TheRock What is your favorite cereal? #RockTalk"
Johnson replied: "Cereal mix: Golden Grahams, Frosted Flakes topped w/ Cinnamon Toast Crunch. BAM! #CerealKING."
6. Dwayne Johnson is a fan of pop and rock star Pink ... and of another special lady.
Shanna (@Alisharay83) asked: "@TheRock Who is your favorite female singer?? #Rocktalk"
Johnson replied: "@Alisharay83 My fav female singer is @Pink Love her. (And of course my girlfriend.) <-- see what I did there.. #BrowniePoints."
The actor and girlfriend Lauren Hashian, a 28-year-old singer (pictured above, at the March 28 premiere of "G.I. Joe: Retaliation"), have been linked together since 2008. Johnson and his ex-wife split a year earlier. They share a daughter.
7. Dwayne Johnson is also fan of traditional country music.
Tammy (@tammy1972a) asked: "@TheRock I know you like country music. Favorite song and artist? #RockTalk"
Johnson replied: "Yup, I love traditional country music. Haggard, Paycheck, Strait, Jamey Johnson. Today we lost an icon #MissUGeorge."
He is referring to legendary country star George Jones, who died at age 81 on Friday.
(Copyright ©2014 OnTheRedCarpet.com. All Rights Reserved.)
Sign up Stay Informed
Entertainment News