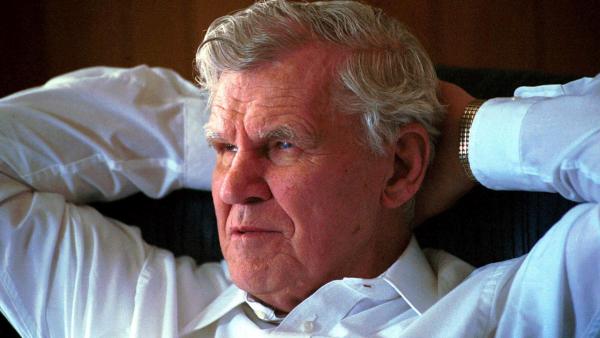 Doc Watson dies at 89 after undergoing surgery
05/29/2012 by OnTheRedCarpet.com Staff
Doc Watson, a legendary blind Grammy award-winning folk artist, died at age 89 on May 29, according to The Associated Press.
Watson died at Wake Forest Baptist Medical Center in Winston-Salem, North Carolina, following abdominal surgery. Watson fell at his home in Deep Gap, in the Blue Ridge Mountains and had been in critical condition for several days after the surgery.
Watson, whose birth name was Arthel Watson, was known for his lightning-fast style of flatpicking, which influenced guitarists around the world.
Richard Watson, Doc Watson's grandson, told The Associated Press in an interview in 2000, "Everybody that's picked with you says you intimidate them, and that includes some of the best."
The musician was born March 3, 1923 in Deep Gap, and lost his eyesight by the age of 1 after he developed an eye infection that was worsened by a congenital vascular disorder, according to the wire service.
As a child, Watson's father gave him a harmonica and by 5 years old, Watson had learned to play the Banjo. Watson reportedly learned guitar chords while at the North Carolina Morehead School for the Blind in Raleigh, and his father helped him buy a Stella guitar for $12.
Watson first got his start in the industry in 1953, playing electric lead guitar in a country-and-western swing band. The musician eventually appeared at the Newport Folk Festival in 1963, which led to his first recording contract a year later.
Watson recorded 60 albums in his lifetime, seven of which won Grammy awards. He earned a lifetime achievement award at the Grammys in 2004. Watson also received the National Medal of the Arts from President Bill Clinton in 1997.
He reportedly got the nickname "Doc" at 19 years old when someone was unable to announce his name and a female audience member suggested he be called "Doc" instead.
Watson started an annual music event called Merelefest, named after his son who died in 1985 in a tractor accident, which is held every year in Wilkesboro, North Carolina. The event raises money for a local community college.
Watson is survived by his wife Rosa Lee Carlton Watson, their daughter Nancy Watson and grandchildren.