Entertainment News: dianna agron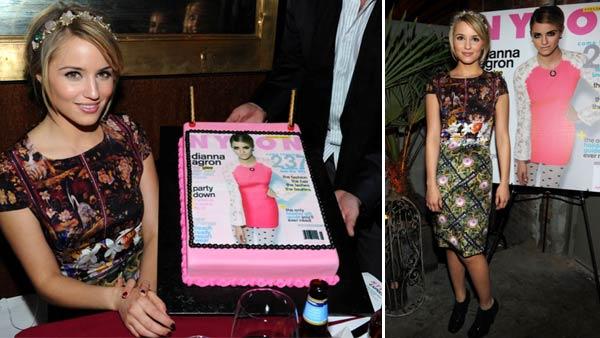 12/08/2011
Dianna Agron, who plays Quinn Fabray on "Glee," wore a knee-length, colorful, floral print Mary Katrantzou dress with cap sleeves from the designer's Fall 2011 collection to Nylon magazine's recent dinner party to celebrate its January 2012 issue, which features the actress on the cover.
She completed the look with black leather crochet lace up booties by Rodarte for Opening Ceremony, a jeweled headband and maroon-colored nail polish. What do you think about Dianna Agron's look at the Nylon party?
More dianna agron
12/08/2011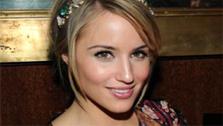 Dianna Agron of 'Glee' wore a colorful, floral print dress at a party celebrating Nylon magazine's January 2012 issue. She appears on the cover and on a decorated pink cake presented at the event on Dec. 7, 2011. See photos.
09/02/2011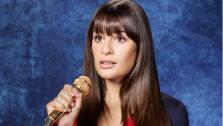 See photos of 'Glee' cast members Lea Michele, Darren Criss and Dianna Agron posing for their school portraits gearing up for season 3, which premieres on Tuesday, September 20 at 8 p.m. ET on FOX.
08/12/2011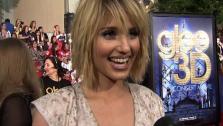 Dianna Agron, who plays Quinn Fabray on "Glee," graced the cover of Cosmopolitan's September issue and told the magazine that she does not want to become the next Lindsay Lohan.
"It's really sad looking at people like Lindsay Lohan. She's an amazing actress, but you see what happens when people know too much about your personal life," Agron told Cosmopolitan. "They start not being able to look at you the same way professionally. I don't want that to happen to me."
08/08/2011
The cast of "Glee" hit the red carpet on August 6 for the Hollywood premiere of "Glee: The 3D Concert Movie."
Which "Glee" starlet do you think was the best dressed - Heather Morris, Dianna Agron, Lea Michele, Naya Rivera or Tina Ushkowitz? Vote in our poll.
02/20/2011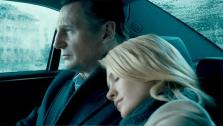 Liam Neeson proves he's still a box office draw. The actor's thriller "Unknown," with Diane Kruger and January Jones, debuted in first place with $21.8 million, according to the Associated Press.
In the film, Neeson plays a doctor on a trip to Berlin who wakes up from a taxi crash to discover that another man is living his life and his wife (January Jones) doesn't recognize him. The police think he's crazy and assassins are on his tail. His only ally in unraveling the mystery is a taxi driver (Diane Kruger).
02/20/2010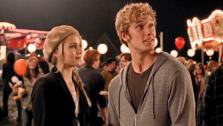 After recently denying engagement rumors, "I Am Number Four" co-stars Dianna Agron and Alex Pettyfer have reportedly called it quits.
02/17/2011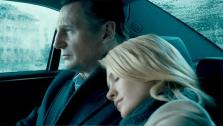 This week, Mr. Moviefone reviews 'Unknown' and 'I Am Number Four'
02/17/2010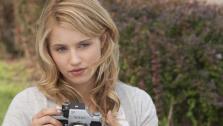 "Glee" star Dianna Agron is made a big leap to the big screen with a lead role in "I Am Number Four" which hits theaters on Friday.
The movie tells of a group of human-looking beings that hide on Earth from an evil species that destroyed their planet and seeks to hunt them down. Agron plays a Midwestern girl who falls in love with one of the persecuted aliens, who is disguised as a high school student and is played by British actor Alex Pettyfer.
02/17/2011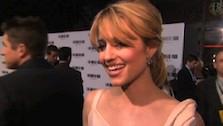 Dianna Agron reveals what to expect from 'I Am Number Four' and why the film is different from 'Glee.'
02/05/2011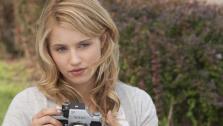 Dianna Agron, who stars as the formerly pregnant cheerleader in Fox's "Glee" has taken to her personal blog this week to deny rumors that she's engaged to her "I Am Number Four" co-star and boyfriend, British actor Alex Pettyfer.
"I have been getting a lot of questions about things that I don't feel the need to explain or talk about," Agron wrote in her Tumblr blog. "I don't mean it as an insult, I've just never shared private details of my personal life to promote my career or a project that I am working on."
12/11/2010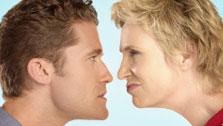 A few members of the "Glee" cast are on vocal rest this weekend. A representative for the show has confirmed that cast members have come down with tonsillitis so the show was forced to shut down production on Friday, reports Entertainment Weekly.