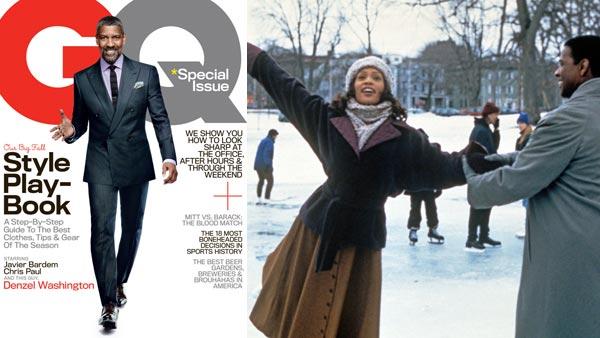 Denzel Washington to GQ magazine: Whitney Houston 'was my girl'
09/18/2012 by Corinne Heller
Denzel Washington opens up about the late Whitney Houston, his co-star in the 1996 Christmas movie "The Preacher's Wife," and her substance abuse in the newest issue of GQ magazine.</p
The iconic singer, who rose to fame as an actress in the 1992 film "The Bodyguard," died in February in a Los Angeles hotel at age 48. She was found in a bathtub and her death was ruled an accidental drowning, spurred by cocaine use and a pre-existing heart condition.
"Whitney was my girl, and she had done so well in recovery. And that is the toughest part about addiction," Washington told GQ in an interview published in its October 2012 issue, adding that the two talked "from time to time" before her death.
"And that was a monster drug that got a hold of her, it was a mean one," he said. "You can't go back to that one. Nobody beats that. I look at people - and I don't think I'm speaking out of line - Sam Jackson, I've known for 30-some-odd years, he was down at the bottom. And he came all the way back. And when he cleaned up, he never looked back. But he can't have that beer, because it might lead to the tough thing."
Samuel L. Jackson told host James Lipton on an episode of "Inside The Actor's Studio" in 2002 that after he began his college studies, he "did every drug known to man" and struggled with cocaine addiction in 1990, while he was performed as an understudy in the play "The Piano Lesson" - his Broadway debut.
He said his wife called his childhood best friend, a drug counselor, who got him into a rehab center in upstate New York. Jackson added that he almost didn't film his part in Spike Lee's 1991 movie "Jungle Fever" because he didn't know when he would leave the facility.
Houston had struggled with substance abuse, including addictions to alcohol, cocaine and prescription drugs, for years. She talked about the issue in a 2002 interview with ABC News' Diane Sawyer and also denied using crack cocaine, saying: "Crack is cheap. I make too much for me to ever smoke crack. Let's get that straight, Okay? I don't do crack. I don't do that. Crack is whack."
Houston underwent treatment for drug and alcohol addictions in 2003 and 2004. She relapsed and returned to rehab in May 2011, less than a year before her death.
(
Check out which other celebrities have undergone rehab in the past
.)
"The Preacher's Wife" was Houston's third movie. Houston played a wife of a Baptist pastor at a struggling church in New York City. Washington portrayed an angel sent to help them.
"Whitney was such a sweet, sweet girl and really just a humble girl," Washington told GQ. "You know, they made her this thing. She had a voice, obviously, but they packaged her into this whole whatever, but she was really just this humble, sweet girl. Me and Lenny [Kravitz], we were talking about her yesterday, and it's more of an example to me or the rest of us to keep it together."
"I was listening to her song "I Look to You." It's prophetic. Maybe I'm speaking out of line. Maybe she thought she could have one. And then the next thing you know, her body was betraying her," Washington said. "She didn't know that her body was aging quickly. She couldn't take it. Your body can only take so much. Some people survive [Hollywood and fame], and some people don't."
Houston's fourth and final big-screen film, "Sparkle," was released on August 17 and also stars "American Idol" season 6 winner Jordin Sparks. The movie has made more than $24 million at the U.S. box office.
In the film, Houston plays Emma, a no-nonsense mother of three daughters who tries to use her own tragic past to prevent her daughters for following in her mistakes.
(Copyright ©2014 OnTheRedCarpet.com. All Rights Reserved.)
Sign up Stay Informed
Entertainment News