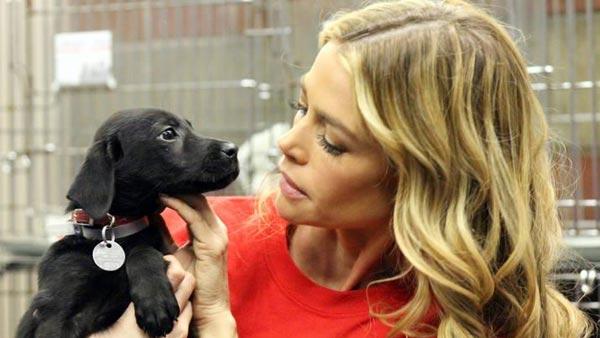 Denise Richards adopted puppy during Hurricane Sandy disaster relief visit
11/12/2012 by Nichole Hamilton
Denise Richards lent a helping hand to the relief efforts of Hurricane Sandy, coming home with a furry friend. Richards, 41, visited North Shore Animal League America's headquarters on November 8 to provide help in spreading the word about the organization's disaster relief efforts and encourage adoptions. During her visit, Richards fell in love with a Labrador named Tara, according to a post on the
shelter's Facebook page
, and adopted the puppy as her own (Photo above). The actress, who brought her daughters along for the trip, also took the time to Tweet about her visit. "Day off tomorrow. Heading to an animal shelter, to help out. Over 600 rescued from the hurricane. My girls are coming to help too," she
Tweeted
on November 8. Richards isn't the only celebrity lending a hand during the crisis, with
Lady Gaga having pledged $1 million on November 7
to New York and The American Red Cross. Hurricane Sandy ravaged the east coast, taking the lives of many and causing disastrous devastation. Many celebrities, such as Emma Watson, Cyndi Lauper and Russell Crowe, have donated their efforts, songs and money to the devastated areas. Lauper, 59, suffered an unfortunate personal loss when she received news that her 90-year-old uncle George Stathis died in the storm. The "Girls Just Wanna Have Fun" singer dedicated a performance of her hit song "Time after Time" to her late uncle. The Disney/ABC Television group also took part in the giving,
raised more than $16.8 million for the American Red Cross to help the survivors of Hurricane Sandy
thanks to its "Day of Giving" on Monday, November 5.
(Copyright ©2014 OnTheRedCarpet.com. All Rights Reserved.)
Sign up Stay Informed
Entertainment News