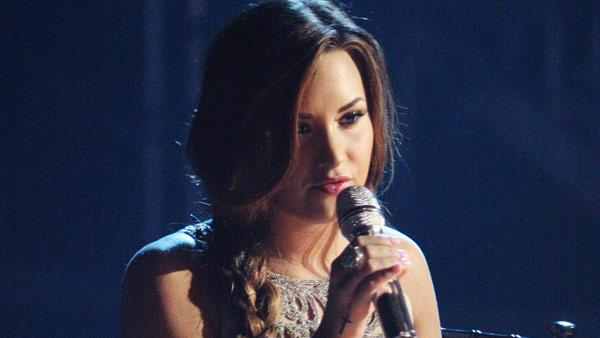 Demi Lovato speaks out about eating disorder joke on Disney Channel show
12/24/2011 by Kristina Lopez
Demi Lovato was not happy when she heard a joke about a model not eating on the Disney Channel series "Shake It Up" recently. The 19-year-old actress took to her official Twitter page to voice her anger over the joke, which was told in the seventh episode of the first season of the series "Shake It Up." An actress playing a model at a swanky party tells one of the main characters, "I could just eat you up, well, if I ate." "What are we promoting here? #notfunnyATALL," Lovato
wrote on her Twitter page on December 23
. She
later added
, "I find it really funny how a company can lose one of their actress' from the pressures of an EATING DISORDER and yet still make joke about.." Lovato entered treatment about a year ago for "emotional and physical issues." She later revealed that she battled anorexia and bulimia. The singer and actress was a former Disney Channel star, appearing in the television movies "Camp Rock" with the Jonas Brothers and starring in her own series "Sonny With A Chance." On April 19, a
Disney Channel spokesperson confirmed Lovato would not return to her show "Sonny With a Chance
." The actress, who had played main character Sonny Munroe since the show began in 2009, had said at the time that she wanted to focus on her music and that she didn't think shooting the series would be "healthy" for her recovery. Lovato recently revealed that
she has struggled with food addiction, cutting and depression and
told Seventeen magazine: "I basically had a nervous breakdown
." The singer and actress also reTweeted a follower's Tweet about a similar joke being made on an episode of "So Random," a spin-off of "Sonny With A Chance." The channel responded to Lovato's Tweets on December 23, under the
official public relations account for Disney Channel media
on the social networking site. "We hear you & are pulling both episodes as quickly as possible & reevaluating them," the
first Tweet addressed to Lovato read
. Their
second Tweet said
, "It's NEVER our intention to make light of eating disorders." Lovato
thanked the channel in a Tweet a few hours later
.
In a series of Tweets,
Lovato also clarified her stance on the issue. "Just clearing things up, I have nothing against any specific actress/actor or tv show.. Nor do I think there's anything wrong with girls who aren't curvy," she wrote. "I just was stating a fact that there needs to be more variety on television so young girls growing up don't feel pressured to look one specific way. Tall, thin, curvy, short, whatever you are, you are beautiful. :)" Earlier this month
the singer and actress returned to Timberline Knolls
, the rehab facility where she sought treatment, as an inspirational speaker. "Today I went back to the treatment center I went to last year, to speak to the beautiful women fighting their inner demons... was so honored,"
the 19-year-old former Disney star wrote on Twitter on December 4
. "To be able to share my story and let them know that it gets easier. Life is beautiful... You are worthy of it." Disney is the parent company of OnTheRedCarpet.com.
(Copyright ©2014 OnTheRedCarpet.com. All Rights Reserved.)
Sign up Stay Informed
Entertainment News