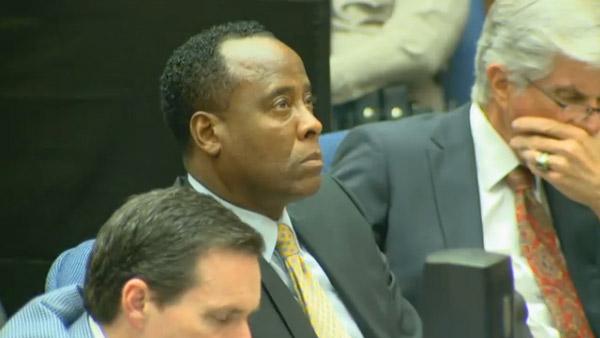 Conrad Murray trial: Blog and live stream
Conrad Murray was convicted of involuntary manslaughter over the death of Michael Jackson on Nov. 7, 2011, after a six-week trial. He was on November 29 sentenced to four years in prison.
Autopsy results have shown that Jackson, the King of Pop, died at age 50 at his Los Angeles on June 25, 2009 from an overdose of the anesthetic propofol and other sedatives.

Murray is a 58-year-old cardiologist who served as the singer's personal doctor. He was by the singer's side on the day he died. He faces up to four years in prison and the loss of his medical license.

Propofol is typically used in surgeries or to help dying hospice patients. Murray's lawyers had said the doctor administered to Jackson a dose too small to be fatal and maintain the singer consumed more of the drug as well as other agents while the doctor was away from his bedside.

Check out the CONRAD MURRAY TRIAL - BLOG below.

Tuesday, November 29

Conrad Murray is sentenced to four years in prison for his involuntary manslaughter conviction in the death of Michael Jackson. Also, his mug shot is released.

Monday, November 7

Verdict reached: Conrad Murray is guilty.

The jury began its second day of deliberations and signaled at about 11 a.m. that they reached a verdict. Conrad Murray was convicted of involuntary manslaughter in the death of Michael Jackson a little after 1 p.m.

Friday, November 4 - DAY 1 OF JURY DELIBERATIONS:


Thursday, November 3:
Attorneys made their closing arguments, after which the case was given to the jury. Jurors were told to begin deliberations the next morning.
Tuesday, November 1:
Conrad Murray told the judge he will not testify in the trial. His defense team rested. The jury was not in session the following day as attorneys planned their closing arguments.
Monday, October 31:
Away from the jury's eyes, Dr. Paul White was held in contempt of court after the judge ruled that he violated the court's orders to refrain from testifying about private conversations he had had with Murray. Prosecutor David Walgren had often butted heads in court with White and said he was too unresponsive and self-serving. The judge said he was prepared to fine White $1,000 and added that he can try to contest it at a hearing on November 16.
White testified that he had only administered propofol in the past in a medical setting, never in a private bedroom. He also answered "yes," when asked if he would walk away from a patient who asked for inappropriate medical care.
White agreed that Jackson must have given himself lorazepam pills and injected himself with propofol without Murray's knowledge. He agreed that the only mention made of the doctor leaving the singer's side was for a two-minute bathroom break and also said there were 35 to 40 minutes worth of calls on Murray's phone that were probably not made in the presence of Jackson.
White said Murray drew 50 mg of propofol, as well as 50 mg of lidocaine, into a syringe and only used half of it when he adminstered 25 mg to Jackson. White said the doctor left the device, still filled with that amount, where the singer could reach for it and added that Jackson could have gotten up to get it even though he had a condom cathether and IV.
White said he was paid about $11,000 to appear as a witness for the defense and that he typically charges $3,500 a day for his time in court. He also said that the other side has contracted him about testifying - he said he received a friendly e-mail and phone call from the prosecutor - Walgren - and told him he had already been contacted by Murray's lawyers. White said Walgren asked him if he needed to be paid and said he told the prosecutor that he would be, because he was no longer affiliated with a university employer.
Friday, October 28:
Dr. Paul White resumed his testimony. He said that he believed that on the day Jackson died, he had consumed propofol and lorazepam when Murray was away from his bedside - which is the doctor's lawyers' main defense theory.

White said that he believed that on that day, the singer ingested eight 2 mg tablets of the sedative lorezepan around 7 a.m., adding that it would explain the elevated levels of the sedative in his blood at the time of his death, and that this was consistent with the small amount of it found in his stomach.

White said that he also believed that after Murray administered 25 mg of propofol to Jackson, the singer injected himself with another 25 mg of the sedative between 11:30 a.m. and 12 p.m. without the doctor's knowledge, citing urine toxicology results from the autopsy.
Thursday, October 27:
Dr. Robert Waldman, a specialist in addiction medicine called to testify by the defense team, got into a heated exchange with Prosecutor David Walgren, laced with sarcasm (see video).
Waldman commented on medical records that Jackson's dermatologist, Arnold Klein, had kept on the singer. Waldman said that he believed there was "evidence that he was dependant upon demerol," a painkiller Klein had given the singer during his treatments. The drug was not found in Jackson's body at the time of his death.
According to medical records made between March and June 2009, Klein injected Jackson with an average of about 200 mg of demerol almost every week. The last treatment took place on June 22, 2009, three days before the singer's death.
Klein performed many cosmetic procedures on Jackson and injected him with wrinkle-smoothing drugs, including Botox, which was also put into his armpits in a bid to curb "excessions perspiration," records showed.
It is uncommon to become addicted to demerol, Waldman said, but added that insomnia was one of the typical symptoms of withdrawal, which would take effect within 24 hours. During a cross examination by a prosecutor, Waldman said that the records alone were not enough to prove that Jackson was addicted to demerol.
Dr. Paul White, the defense team's main medical expert and an anesthesiologist who had studied propofol, testified that he would not have expected Jackson to die from the drugs that Murray had said he gave him. He also said that a 2010 Chinese study about the use of propofol as an insomnia aid "deserved serious attention and follow-up."
Wednesday, October 26:
Several of Murray's past patients testified before the jury:
Gerry Causey said Murray treated him after he suffered a heart attack about 11 years ago in Las Vegas. He said the doctor, who he referred to as his "best friend," installed stents, explained treatment procedures in advance and did not charge him a deductible. He also said he was aware the doctor planned to take time off to treat Jackson and that beforehand, Murray gave him his contact number.

"The reason I decided to help Dr. Murray is I've known him, know him, know his compassion for patients," Causey testified. "He's the best doctor I ever been to."
Lunette Samosin said Murray treated her after she suffered three heart attacks, reparing blockages in her heart and arteries in her leg. She praised the doctor, saying he was not money hungry, helped the poor and was the most caring physician she ever had.
Dennis Hix said Murray treated him about 10 years ago for heart problems after another physician told him they were unable to do so. He said Murray carried out a series of successful stent procedures, even though his insurance would not cover the cost, and also said the doctor treated his brother for free until he qualified for government aid. He said: "I am 66. I've gone to a lot of doctors and never went to one that gave me the care he did."
Ruby Mosley, an octogenarian from Houston, cried as she testified abut how Murray treated her heart blockage by implanting stents. She said the doctor promised to open a clinic to continue his late father's work in his impoverished community. She said: "If this man had been greedy, he would never have come to Acres Homes - 75 percent of them on welfare and social security," adding that Murray was making less money there than he did at his treatment center in Las Vegas.
Will Conrad Murray testify in person?
Exclusive: In a separate meeting, away from the jury, Judge Michael Pastor told Conrad Murray that he can testify if he wants to and if he does, he will be subject to cross examination.
Tuesday, October 25:
Cherilyn Lee continued her testimony after spurring a 25-minute break, ordered after she complained about dizziness and blurred vission. She stated during her testimony that Jackson told her that propofol was the only medication that helped him fall asleep.

She said she consulted with a doctor, who told her that it was a sedative used in hospitals and not in private homes. Lee said she told the singer: 'No doctor will do this at your house" and that Jackson said, "No, I can do it if I am monitored." She said he asked her to find someone who would help him obtain what he wanted.

She also said that during a phone call with Jackson's security chief, Faheem Muhammad on June 21, 2009, four days before the singer died, she heard the King of Pop in the background, saying that half of his body was cold and half was hot.

Muhammad had testified last month that on that day, Jackson's assistant, Michael Amir Williams, called him and said "MJ said he was having some weird symptoms and one of his hands was hot and one of his feet was cold and he wanted a doctor to come and see if everything was okay." He said he was instructed to call another medical professional - Lee, not Murray.


Randy Phillips, president and CEO of AEG, which organized Jackson's "This Is It" London tour, testified that Jackson was eager to settle down for an extended residency so his family "wouldn't have to live like vagabonds."

Phillips said the singer agreed to a maximum of 50 concerts "Within 20 minutes, Phillips had an answer: Jackson would agree to a maximum of 50 shows under two conditions - that the company rent him a large estate outside of London and that representatives for the Guinness Book of Records representatives be invited to the final show so that the tour could set official records.

Phillips said co-director Kenny Ortega emailed him on June 20, 2009 - five days before Jackson's death - to tell him he was concerned about the singer's health, confirming Ortega's previous testimony. He also confirmed he met with Murray weeks earlier at the singer's home, saying colleague Paul Gongaware and Jackson's manager, Frank DiLeo, thought the singer was losing weight. Phillips said Murray told him Jackson was "in great health."

Phillips said no one at AEG contemplated "pulling the plug" on the "This Is It" tour. Ortega had told him in his email: "As far as I can tell, there is no one taking responsibility, caring for him on a daily basis. I believe that he really wants this. It would shatter him, break his heart if we pulled the plug."
Toxicologist Michael Henson testified that he had Jackson's urine analyzed after his death and that it tested positive for 28 mg of lorazepam, adding that a single 2mg pill would bring blood levels up to .018 ml. The defense aims to prove that while Murray gave Jackson 2 2mg pills of the drug in the hours before his death, the singer consumed additional doses of it while the doctor was away.

In a bid to debunk the theory that the singer swalled more lorazepam pills, prosecutor David Walgren noted that a different test, of Jackson's stomach, came back positive for just about one third of a single 2 mg lorazepam pill. Henson said the lorazepam could have degraded during the time between tests.
Monday, October 24:
Shafer concluded his testimony and is the last witness for the prosecution.

THE PROSECUTION RESTS, DEFENSE ATTORNEYS BEGIN CALLING THEIR OWN WITNESSES


Alan Metzger, a primary physician who treated Jackson since the 1990s, was one of the witnesses called to testify by Murray's lawyers. He said the singer has suffered from sleep issues for years and was interested in intravenous sleep medication but did not mention a specific drug. The doctor said he never administered such substances to Jackson.

Metzger said the singer had tried other drugs to help him sleep, such as Tylenol PM and Xanax, but that they were ineffective.
Cherilyn Lee, Michael Jackson's nurse and holistic practitioner, testifies at the involuntary manslaughter trial of the singer's former doctor, Conrad Murray, on Oct. 24, 2011 - the day the prosecution rested and defense attorneys began to call their own witnesses.

"He said, 'I'm having a hard time sleeping,' Lee said. "I noticed when I was with him, he loved to drink Red Bull and I told him ... caffeine can cause him to feel fatigue. He said occasionally he would just take Tylenol PM. He said he would take it sometime at night. He was very concerned about nutrition. He said he would sweat a lot during rehearsal ... he would lose five to seven pounds sometimes just from perspiration.'

Lee said she ran blood tests on him and after reviewing his results, throughout the next few days, she gave him low doses of vitamins B-12, C, amino acid, magnesium and calcium through an IV also made him nutritional smoothies and teas aimed at boosting his energy and helping him with his fatigue and insomnia.

She said that one day, Jackson asked her to observe him trying to sleep, in a bid to show natural treatments were ineffective. Lee said she sat at the singer's bedside and observed him trying to doze off after he was given his vitamins and tea. Jackson slept for five hours, she said.

"He woke up around 3 a.m. and he said, 'I told you, I can't stay asleep,'" Lee said.

In April 2009, two months before his death, was the first time Jackson mentioned medications to her, she said, adding that the singer had told her that it was difficult to give him injections adding: "Doctors have always told me that it is hard for them to get my veins. Because they are squiggly veins."
(
Murray had told police in an interview following Jackson's death that the singer had requested that he order propofol
for him and give it to him on a nightly basis. He also said the singer "begged" for the drug, to help him sleep, on the day he died.)
Donna Norris from the Beverly Hills Police Department described the 46-second 911 call made by Jackson's bodyguard, at Murray's request, after the doctor discovered the singer in cardiac arrest. The call was made at 12:20 p.m.


Alexander Supall, a surveillance specialist from the Los Angeles Police Department, testified, as did LAPD Detective Dan Myers, who said interviewed Alvarez, one of Jackson's bodyguards, in August 2009. Myers said the man never mentioned to him an incident that he had described earlier in the trial, in which he described seeing Murray hide drug vials while paramedics were busy loading Jackson into an ambulance.
Friday, October 21:
Shafer was cross-examined by Murray's lawyer, who stated that the IV tubing, propofol bottle and syringe used in a demonstration the previous day was not the same same one that were found the room where Jackson died after he was pronounced dead.

Chernoff also asked Shafer if he had himself ever drank propofol. Shafer said he had.

Shafer is the prosecution's final witness. After he is finished testifying, Murray's lawyers are expected to begin calling their own witnesses, which are likely to include police detectives and a 911 custodian of records.
Thursday, October 20:
Steven Shafer continued his testimony. He said the amount of propofol and the sedative lorazepam found in Jackson's blood after his death was higher than the doses Murray said he gave the singer to help him sleep. This does not disprove the theory of Murray's lawyers that Jackson allegedly swallowed several lorazepam pills while the doctor was away from his bedside.

He also said that it was "highly unlikely" that after being given propofol, Jackson would be able to wake up and inject himself with additional doses of the drug, which is what Murray's lawyers consider a possibility.

"People just don't wake up from anesthesia like that," Shafer said. "It's a crazy scenario, it just doesn't happen."

Shafer also said he believed Jackson was given propofol through an IV drip, which was still active at the time of his death. Had the infusion been stopped at noon that day, the levels of propofol in Jackson's blood would have dropped and he would still be alive, he said.

Shafer demonstrated to the jury how Jackson's IV stand was set up and displayed a 100 ml bottle of propofol that he believed Murray had used.

Murray and his lawyers became visibly upset after the prosecutor, while handling the bottle, popped open a tab handle that is meant to be hung from an IV stand. One of the attorneys accused him of "tampering" with the evidence. The doctor's lawyers say the original condition of the container proves that Murray did NOT administer propofol through a drip.

A stipulation was then issued, explaining that at the time of Jackson's death, the bottle's tab handle was unopened. Pictures of the container in its original condition are also part of the evidence file provided to the jury.
Wednesday, October 19:
Dr. Steven Shafer demonstrated to the jury how propofol should be administered.


"Every day, I'm in the operating room, I am asked the question, 'Am I going to get the drug that killed Michael Jackson?" he said. "This is a fear that patients do not need to have. Propofol is an outstanding drug. I would like, hopefully, from my testimony in part, for people to understand that when they are given these drugs by people who know what they're doing, they're good drugs, they can be safely given."

Shafer maintains that Murray violated the doctor-patient relationship with regard to his treatment of Jackson and found deviations in the standard of his care.

He said the doctor did not use appropriate medical and monitoring equipment, did not keep health records or demand written consent of treatment, did not call 911 immediately, used propofol to treat insomnia and did not monitor the singer's mental status.

Shafer also said the amount of propofol Murray ordered for Jackson - 4.09 gallons - was "extraordinary." He also said he believed the doctor gave Jackson more lorazepam than he claimed, citing the fact that Murray used flumezenil to counter its effects hours after the lorazepam was administered.
Thursday, October 13:
Murray's defense attorney, J. Michael Flanagan, cross examined Dr. Nader Kamangar, a UCLA sleep medicine and pulmonary expert who maintained that Murray had failed to provide Jackson with the proper care to save his life including not calling 911 immediately and failing to keep medical records and not having the proper monitoring equipment when dosing a patient with propofol.
Deputy District Attorney David Walgren, asked Dr. Kamangar, "In this case, Conrad Murray was negligent in multiple instances and that gross negligence directly caused the death of Michael Jackson. Is that correct?"

"Absolutely it did, yes," Dr. Kamangar replied.
Dr. Steven Shafer, a professor of anesthesiology at Columbia University and propofol expert, testified how important it was for doctors to be precise when administering propofol. He is one of the physicians responsible for coming up with the initial guide for appropriate dosing of propofol for sedation.
Court was not in session between October 14 and October 18
Wednesday, October 12:
One of Murray's lawyers said the defense is dropping its claim that Jackson ingested propofol orally. They will, however, continue to maintain that Jackson gave himself the drug via an injection and that he ingested other medications orally while the doctor was away from his bedside.
Alon Steinberg, a cardiologist on California's Medical Board, testified that he found six distinct deviations in the standard of care in Murray's treatment of Jackson. Steinberg stated:

1. Propofol is not an appropriate medication to treat insomnia. Steinberg said: "I don't know any doctor who uses propofol to induce sleep," except Murray.
2. Murray administered propofol at a home setting, without proper medical and monitoring equipment.
3. Murray was not prepared for an emergency situation, as the pulse oximeter he used on Jackson had no alarm, and the doctor also did not have an EKG monitor or defibrillator on hand. Steinberg compared giving propofol in a house while unattended to "leaving a sleeping baby sleeping on a kitchen counter."
4. Murray demonstrated improper care to Jackson when he discovered him not breathing, as he did not have an automated blood pressure cuff or a way to summon for help and possessed an Ambu bag but did not use it.
5. Murray should have called 911 before performing CPR on the singer. Steinberg said that summoning Jackson's assistant beforehand was "bizarre" and that "Jackson was salvable."
6. Murray did not maintain proper medical records on Jackson.
Nader Kamangar, a pulmonary and sleep expert, testified that Murray violated the standard of care and demonstrated gross negligence in his treatment of Hackson by admin propofol outside of an intensive care unit. Murray, Kamangar said, "abandoned" Jackson, gave him access to drugs and delayed his 911 call.

"It's beyond unethical to manage someone with insomnia with propofol," Kamangar said, adding that the drug is a restricted medicine and that special training is giving to medical workers who administer it. He said patients treated with it are monitored continuously with required equipment - an EKG monitor, a pulse oximeter and capnometer, adding that the devices contain alarms that detect changes quickly.

Kamangar said lorezapam is also not an appropriate drug to use to treat insomnia, calling it a "highly addictive drug."

Kamangar also criticized Murray for performing CPR on the singer while he was on a bed. The doctor had begun the process this way and later moved Jackson to the floor with the help of a bodyguard. Murray had told police detectives that he was unable to Jackson from the bed on his own.
Tuesday, October 11:
The second part of the Murray's taped interview with detectives was played. The doctor talked about the moments after Jackson was pronounced dead, saying he consoled the singer's children, refused to sign his death certificate and recommended an atuopsy to determine the cause of death. He also talked about Jackson's previous health conditions that he had treated as well as what he said were the singer's eating and drinking habits.

Murray said that he "recommended an autopsy" be performed on Jackson to determine the cause of death and asked that the singer's body be made "as presentable as possible.
The man who performed the autopsy, forensic pathologist Christopher Rogers, testified that the results of the autopsy he performed showed that Jackson died of acute propofol intoxication, combined with the effects of lorazepam and the sedative midazolam. The cocktail of drugs affected Jackson's breathing and cardiovascular activity, leading to his death.

Murray's lawyers have suggested the singer drank the drug and also swallowed several pills of the anti-anxiety agent lorazepam while the doctor was away. Rogers testified that no traces of propofol were found inside Jackson's mouth and no pills or capsules were located inside his stomach.

Rogers also testified that at the time of his death, Jackson was 5'9" and weighed 136 pounds. The singer suffered from conditions such as an enlarged prostate, the skin disease vitiligo, chronic inflammation and scarring in his lungs and arthritis and also possessed an extra rib. Jackson's scalp was also discolored, due to a 1984 Pepsi commercial shoot, during which his hair caught on fire.
Also on October 11, a censored photograph of Jackson's naked dead body lying on an an autopsy table was shown to the jury, marking the first time such a graphic picture had been made public.
Friday, October 7:
Prosecutors played to the jury an audio tape recording of an interview police detectives carried out with Murray.

Murray told police that Jackson begged him to give him propofol hours before his death and added that he did not call 911 after discovering him in a bedroom, not breathing, as he had focused on trying to save his life and did not know the zip code of his home. Murray also said "loved" Jackson, who he called his friend.
Thursday, October 6:
Elissa Fleak of the Los Angeles County Coroner's Office resumed her testimony. Attorneys for the prosecution and defense agreed that Jackson's fingerprints were not found on any of the medical evidence she retrieved from his home. Murray's were found on the 100 ml propofol bottle Fleak found inside the saline IV bag.

It was also revealed that Murray did not provide medical records for Jackson from April to June 2009. The ones he did provide the coroner's office dated back to 2006 and showed that the singer had used the aliases "Omar Arnold" and "Paul Farance." Fleak testified that she obtained medical records about Jackson from Murray and other doctors such as Arnold Klein, Allan Metzger, David Adams and Mark Tadrissi and nurse Cherilyn Lee.
Dan Anderson, a toxicology expert and criminologist from the coroner's office, testfied that Jackson tested positive for propofol, Valium (diazepam), Lidocaine, lorazepam, midazolam and ephedrine, an appetite suppressant. The singer's blood, urine, liquid behind his eye balls, liver and gastric content were all evaluated and propofol was found in all of them.
Anderson confirmed that the amount of Lidocaine (1.6 mg) and propofol (0.13 mg) found in Jackson's stomach was equal to several "specks of sugar in a sugar packet." This was aimed at showing that it was unlikely the singer ingested drugs on his own, as Murray's lawyers say.
Anderson also said demerol - a painkiller Murray's lawyers have said Jackson was given by Klein, his determatologist, and recreational drugs were not found in the singer's body.
Fleak also testified that her investigation was not perfect and was chided for leaving a fingerprint on a syringe.
Wednesday, October 5:
A longer version of the recording of Michael Jackson speaking to Conrad Murray in a slurred voice is played. Listen to the audio file and check out a transcript.
Also played during Murray's trial on Wednesday was a voicemail Jackson's manager, Frank DiLeo, left on the doctor's iPhone on June 20, 2009 - five days before the singer's death. DiLeo, who died himself this past August, had told Murray that Jackson was ill and "had an episode" on the night of June 19, 2009, adding: "I think you need to get a blood test on him. We need to see what he's doing."
Elissa Fleak of the Los Angeles County Coroner's Office testified about what she recoved from Jackson's home after his death, which included several bottles of propofol (see photos of the evidence presented to the jury).

She confirmed that she took a photograph of Jackson on a gurney after he was pronounced dead at a hospital. The photo was presented at the start of the trial and on October 5.
Computer forensic examiner Stephen Marx testified that he retrieved emails, voicemails and the recording from Murray's iPhone, including medical records referencing a patient named Omar Arnold, which prosecutors have said is one of the aliases Murray used to fill the singer's prescriptions. He also confirmed that Murray sent an email at 11:17 on the morning of Jackson's death to a London insurance broker, saying that "statements of (Jackson's) health published by the press ... are all fallacious to the best of my knowledge." In the email, the broker also wanted to confirm that Murray was Jackson's only doctor since 2006. Murray told him that the singer would not authorize the release of his medical records.
Sally Hirschberg from Sea Coast Medical, a pharmaceutical company, testified that Murray first opened an account with her firm in December 2006 and that on Apr 13, 2009, a medical volunteer from his Las Vegas office raised a 'red flag' by requesting that an order be shipped to a residential address in California.

She said the request was declined and all orders were sent to the doctor's Las Vegas office. Invoices presented to the jury show that between April and June 2009, Murray's office ordered supplies such as infusion and IV administration kits, syringes, an Ambu bag, catheters - including condom catheters and Lidocaine.
Tuesday, October 4:
Nicole Alvarez, Murray's live-in girlfriend and mother of his son, testified that the doctor ordered many packages sent to her Los Angeles apartment, although she did not inquire about their contents.

She also said he called her from the ambulance as he rode with Jackson to the hospital and that she was set to accompany Jackson and Murray on tour. She said she had met the singer, who was "very interested in the baby. He saw me grow with the pregnancy and he wanted to schedule visits so he could see my son."
Tim Lopez of Las Vegas testified that between April and June 2009, Murray ordered from him 255 vials of propofol, as well as anti-anxiety drugs, skin whitening cream and saline IV bags, but did not disclose to him the names of his patients. The address to where Murray had the packages delivered was Alvarez's home, prosecutors said.
Sade Anding - a cocktail waitress in Houston, Texas, met Murray in February 2009. She said he once referred to her as "my girlfriend" "just to play around." She said she last saw him in May 2009 and on the day Jackson died, he called her. Records show the call was made at 11:51 a.m. Anding said that and at one point, the doctor stopped speaking. Anding said she heard mumbling, a "shhh" sound and coughing and didn't recognize any of the voices. She said she hung up and was unable to reach him again.
Stacey Ruggles, a former employee of Murray, said the doctor called her on the morning of Jackson's death and that she phoned him back at 11:07 a.m. and had a brief conversation with him about opening an office in memory of his late father. She also said most of his Houston patients were "unable to afford a physician and that "there was very minimal amount of income that came in from that office during that period of time."
Michelle Bella testified that she met Murray in February 2008 at a "social-type club" where she worked in Las Vegas. She said the two began to see each other and that the doctor sent her a text message on the day Jackson died. Prosecutors said he sent it at 8:35 a.m.
Monday, October 3:
Dr. Richelle Cooper continued her testimony.
UCLA Medical Center cardiologist Thao Nguyen testified. She said Murray told doctors to "not give up easily" in their attempts to revive the singer, who appeared to be dead upon arrival at the hospital, and that the physician was unable to tell her much time had passed between the moment he discovered Jackson in a bedroom in his home, not breathing, and the time 911 was called, adding: "He said he did not have any concept of time, he did not have a watch."
Representatives from two cell phone companies, AT&T and Sprint Nextel, testified that calls and data were made and sent from Murray's cell phone during the hour before emergency services were summoned to Jackson's home.
Dr. Joanne Bednarz-Prashad, a Texas physician, testified that she called and spoke to Murray about one of his former patients and a medication the doctor had prescribed the person. The call was made at 10:20 a.m. on the day Jackson died.
Bridgette Morgan, a Los Angeles woman, said she had "formed a relationship" with Murray and had known him since 2003. She said she called the doctor at 11:26 a.m. on the day Jackson died but "he didn't answer."
Consuelo Ng, a medical volunteer at Murray's Las Vegas clinic, said the physician told her and her fellow staff members about his new gig with Jackson and "that he's trying to get a competent doctor to oversee his patients in his absence." Phone records show Murray called the Las Vegas clinic at 11:18 a.m. on the day Jackson died.
Las Vegas woman Antoinette Gill, another one of Murray's patients, called the doctor at 8:49 a.m. on June 25, 2009. She said she was familiar with Murray's letter referencing his "once in a lifetime opportunity." Gill added during her "very short" phone conversation with Murray, she sought a referral to another doctor but did not receive one.
Friday, September 30:
Robert Johnson testified. He works for Nonin Medical, a company that manufactures non-invasive physiological medical equipment, including pulse oximeters. He said the model Murray used on Jackson was cheaper than others available and did not contain an alarm, so the doctor would be forced to look at its readings constantly to determine if they were off.
One of Murray's former patients in Las Vegas, Robert Russell, testified. He said that while Murray saved his life after a heart attack, he felt "abandoned" after the doctor told him he was leaving his practice to care solely for Jackson.

(Listen to the voicemail Murray left Russell at 11:49 a.m. on June 25, 2009, minutes before the doctor called the singer's assistant for help and also before he told Alvarez to call 911.)
Paramedics Richard Senneff and Martin Blout testified
. They said Jackson showed no signs of life and was in cardiac arrest when they arrived at his home. Senneff said Murray attempted to revive Jackson before they got there and told him he was treating the singer for "dehydration and exhaustion" and that he "gave him a little bit of lorazepam to sleep."
UCLA Medical Center emergency room doctor Richelle Cooper testified. She said Jackson appeared to be "clinically dead" when he arrived at the hospital. She also said had been contact with a nurse who had spoken to the paramedics who treated Jackson at his home, and relayed to them through her that they should pronounce the singer dead (listen to audio of the call here).

They said Murray insisted on taking him to the hospital, where more attempts to revive him were made. Cooper said Murray told her he had given Jackson a dose of 2 mg of lorazapam, then gave him an additional dose of the amount amount of the drug, and then observed that the singer had gone into cardiac arrest.
Thursday, September 29:
Jackson's former bodyguard Alberto Alvarez, testified that Williams relayed to him Murray's message and told him to go to the home to check on the singer. Alvarez said he complied and said he saw the doctor performing CPR on Jackson.

He said Murray ordered him to collect several medicine vials and a saline bag, which Alvarez later confirmed contained a bottle of propofol, before instructing him to call 911. That phone call was played in court (listen to it here) and was received by firefighters at 12:22 p.m.
Jackson's chef, Kai Chase, testified that she was preparing lunch for the King of Pop on the day he died and that between 12:05 and 12:10 p.m., Murray came down the stairs in a panic and yelled at her to "go get help, go get security, go get Prince."
Wednesday, September 28:
Kathy Jorrie, an attorney for AEG Live, testified.


Michael Amir Williams, Michael Jackson's personal assistant, testified and cited a voice mail Murray left him at 12:13 p.m., before 911 was called (listen to it here), as well as a request about "cream that he wouldn't want the world to know about." Several bottles of skin whitening cream were found in the singer's home after his death. Jackson suffered from the skin disease vitiligo.



Faheem Muhammad, Jackson's chief of security, testified that the singer's two oldest children watched Murray try to revive their father, confirms Williams' testimony about the "cream" and says they agreed to keep Murray away from the home.


Tuesday, September 27:


Opening statements are made byMurray's lawyers and by prosecutors . A voice recording of Jackson, made by Murray, is played. The singer's voice sounds heavily slurred as he talks about his "This Is It" tour.



Kenny Ortega, co-director of Jackson's "This Is It" tour testifies, says Jackson appeared unwell, "lost" and "incoherent" in a rehearsal days before his death.



Paul Gongaware, co-CEO of concert promoter AEG LIVE, testified.


The jury:
The jury consists of: 7 men and 5 women
Out of them, 6 are white, 5 are Hispanic and one person is African-American. Check out more details about the jurors.

Key players:
Defendant: Conrad Murray, personal physician to Michael Jackson
Judge: Michael Pastor
Prosecutor: David Walgren (Los Angeles District Attorney's office)
Prosecutor: Deborah Brazil (Los Angeles District Attorney's office)
Defense lawyer: Michael Flanagan
Defense lawyer: Attorney Edward Chernoff
Defense lawyer: Attorney Nareg Gourjian
Stay Informed: