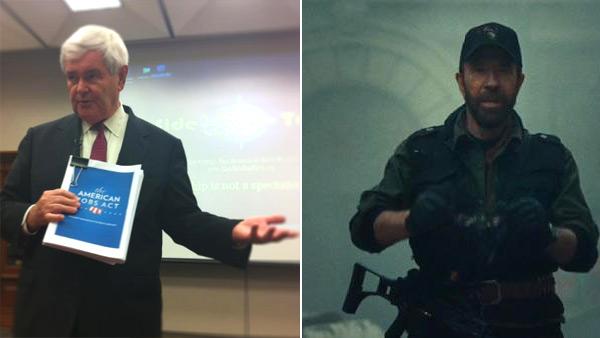 Chuck Norris, 71, endorses Newt Gingrich, who jokes actor will 'make an excellent Secretary of Attack'
01/20/2012 by Corinne Heller
Chuck Norris says Newt Gingrich is his pick to win the 2012 election, adding that the Republican presidential hopeful can "outwit, outplay and outlast" current U.S. leader Barack Obama. The 71-year-old, action star, who has inspired a slew of jokes about his toughness, says in a column posted on
WorldNetDaily, an independent conservative news website, titled "My endorsement for president," that Obama
"has tried and failed miserably to fix our economy." "Rome is burning, and we need to appoint the best firemen possible to rush in and put out her fury," the actor says. "What's critical at this point is to appoint a commander in chief who can clearly lead America to a more solvent and secure future." Norris announces his support for Gingrich, 68, on Friday, January 20, a day before the South Carolina GOP primary. About three dozen more such events are scheduled to take place around the country before one candidate is chosen to represent the Republican Party in the U.S. presidential election on November 6. Texas Governor Rick Perry recently withdrew his bid for president and endorced Gingrich, a former House speaker and one of the front-runners among the Republican candidates. In 2010, Perry appointed Norris and his brother actual honorary Texas Rangers
(see video)
. "We agree with our friend and governor of the great state of Texas, Rick Perry, when he suspended his campaign and endorsed Gingrich, that Newt 'has the heart of a conservative reformer,'" Norris adds in his column, speaking also on behalf of his wife. "We believe Newt's experience, leadership, knowledge, wisdom, faith and even humility to learn from his failures (personal and public) can return America to her glory days. And he is the best man left on the battlefield who is able to outwit, outplay and outlast Obama and his campaign machine," Norris adds, referencing the popular slogan of the CBS reality series "Survivor."
Gingrich responded to Norris on Twitter, saying on Friday: "Honored to have Chuck Norris' endorsement
. He will make an excellent Secretary of Attack. In all seriousness, Chuck is a great American and man of deep convictions. Very flattered." Norris lives in Dallas, Texas with his wife Gena and their 9-year-old twin son and daughter, Dakota and Danilee. He has supported Republican candidates for years. He has donated more than $45,000 to right-wing groups such as the Tea Party Express and the National Republican Trust and to candidates such as George W. Bush, his father George Bush and former Arkansas governor Mike Huckabee. Norris rose to fame with the 1990s series "Walker: Texas Ranger" and has inspired online lists of fan-written "facts" - such as, "There are only two things that can cut diamonds: Other diamonds, and Chuck Norris." Meanwhile, Norris is gearing up to make a major acting comeback. This year, he can be seen in "The Expendables 2," which his first feature film in more than six years. Official details about his role have not been released but the
actor does appear in the trailer
(see below). The action movie is set to hit theaters in August, just before the November election, and stars fellow action stars Arnold Schwarzenegger, Sylvester Stallone, Jean-Claude Van Damme, Bruce Willis, Dolph Lundgren, Liam Hemsworth, Jet Li and Jason Statham. "The Expendables 2" sees the team of mercenaries embarking on a quest for revenge after one of them is murdered. The movie marks the official acting return of Schwarzenegger, who reprises his uncredited role of Trench from the first 2010 film. Stallone, who co-wrote the script, reprises his role of Barney Ross, while Willis stars again as Church. Van Damme plays a new character called Jean Vilain. Check out which
celebrities have supported Republican causes and campaigns and which ones have supported Democratic ones
.
(Copyright ©2014 OnTheRedCarpet.com. All Rights Reserved.)
Sign up Stay Informed
Entertainment News