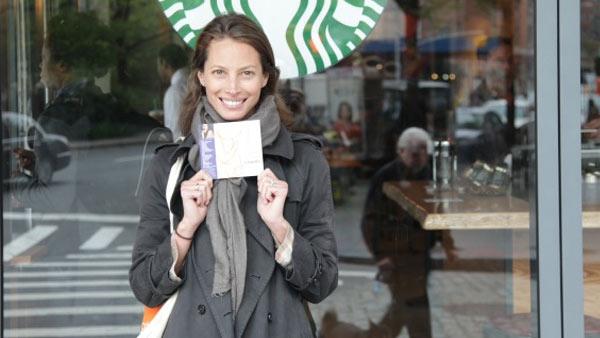 Christy Turlington Burns discusses daughter Grace, 8, difficult birth
08/23/2012 by Nichole Hamilton
Christy Turlington Burns, the supermodel who represented Calvin Klein for over 10 years, has recently come forward and revealed her struggle with her 8-year-old daughter Grace's birth.
"Suddenly I went from totally empowered to, like, on my back," Turlington Burns told Dujour.
The 43-year-old model, who has held a number of contracts with companies such as Versace and Maybelline cosmetics, had a difficult experience delivering her daughter in 2003. Turlington Burns endured complications that resulted in postpartum hemorrhaging, or PPH, which is the leading cause of pregnancy-related deaths in the world.
Following her own tough experience, the American model funded and directed the 2010 documentary "No Woman, No Cry," which focuses on the personal stories of four women in various countries and their unique struggles. Hoping to shed a light on the plight of maternal death, the model even included personal footage of her own birthing scare.
"I thought some people might perceive it as, 'Oh, what's a model doing in this?'" she said. "But hopefully that falls away. I'm just like any of the other women in terms of giving birth - you're always vulnerable in that state, and you always need support."
Turlington Burns, who also funded the advocacy campaign "Every Mother Counts" to increase support for maternal mortality reduction globally, continued to talk about how her daughter was her primary motivation.
"I started doing this work after I gave birth to Grace - that's very, very clearly why I'm doing this," she said. "But I'm also the mother of a son. It's important to teach him to be aware of women's issues and to be kind and respectful."
The film first premiered at the Tribeca Film Festival in 2010, and following that, earned a spot on Oprah Winfrey's OWN cable channel in 2011. The film has since been shown in a number of different venues, including college campuses and health conferences.
The model, who is married to "Saving Private Ryan" actor Edward Burns, has appeared in a number of documentaries in her career, including the 1995 "Unzipped" and the 1996 "Catwalk."
(Pictured: Christy Turlington Burns appears in a photo from her official Twitter account. The photo, taken on May 1, 2012, shows the model promoting the Every Mother Counts album that was available for purchase at Starbucks.)
(Copyright ©2013 OnTheRedCarpet.com. All Rights Reserved.)