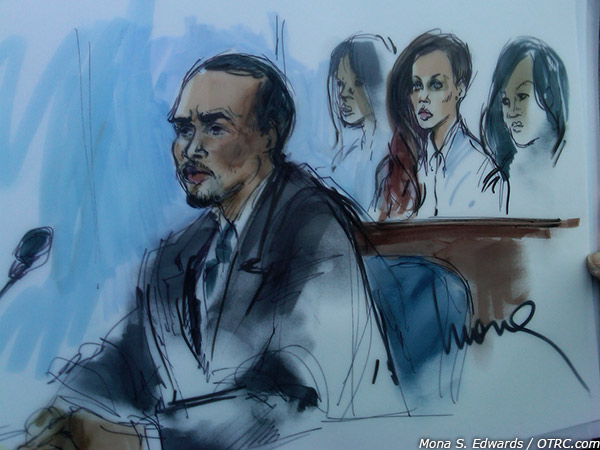 Chris Brown has probation hearing, Rihanna attends (Photo)
02/06/2013 by Corinne Heller
Chris Brown is facing allegations that he failed to complete his court-mandated community labor and violated his probation, issued over his 2009 assault of girlfriend and fellow R&B singer Rihanna, who appeared at a Wednesday hearing on the matter.
UPDATE at 2:50 p.m. PT: A judge scheduled another hearing for April 5 and ordered that a probation officer interview Brown and submit a new report within 48 hours, OTRC.com has learned.
"At this point I'm not revoking probation," the judge said.
Rihanna and Brown had parted ways after the 2009 assault but reunited months ago. She has said she forgives him. The two have not revealed the nature of their relationship but she has shared suggestive photos of him on Twitter.
Rihanna blew a kiss to Brown as he entered the courtroom on Wednesday and sat in a seat a few feet behind him. She left with the singer when the hearing ended. They were whisked in and out through the underground parking lot by security.
Brown pleaded guilty to felony assault of Rihanna after a pre-Grammy Awards party early on Feb. 8, 2009. He was sentenced to five years of probation and ordered to complete 180 days of community labor and take 52 hours worth of domestic violence classes. He completed the course in late 2010.
Brown had performed community labor hours in Virginia. The Los Angeles District Attorney's Office says Brown failed to provide "credible, competent or verifiable evidence" that he completed it and wants the court to order him to redo his service in Los Angeles County. Prosecutors filed a motion on Tuesday and say that due to this and several allegedly violent incidents, his probation should be revoked.
Brown's attorney, Mark Geragos, filed a response to the motion and told the judge he was surprised about the DA's office "putting the lie on what had been released to the media," adding: "Frankly, I'm a little disturbed how the district attorney handled this. It could've handled it much differently."
The New York Daily News cited a source as saying that while prosecutors are not looking for jail time, such a sentence would be possible if the judge orders Brown's 2009 assault case to be revisited.
Prosecutors say there are discrepancies in the number of hours Brown had been reported to have completed and that the singer was not even in the country during several dates. The Richmond Police Department, which had been overseeing his work, has declined to comment, saying in a statement obtained by OTRC.com: "It would be inappropriate to comment on a matter before the court."/p>
TMZ had posted what it says is a September 2012 letter from the police chief to a Los Angeles criminal court judge, declaring that Brown has completed approximately 202 days of community labor tasks, which included removal of trash and debris, cleaning a public park and a horse stable, washing city-owned vehicles and painting, stripping and waxing floors.
ANGER MANAGEMENT
Prosecutors cite several incidents that they say could also constitute probation violations and demonstrate Brown has anger management issues.
A January 27 scuffle with Frank Ocean is one of them. Police say the two argued over a parking space in the city and that Brown had threatened the singer, saying he and his entourage could "bust" him. The word is slang for "shoot." Ocean had said he does not plan to press charges. Los Angeles authorities says none will be filed against Brown.
Prosecutors also cite a February 2012 instance in which a woman told police he snatched her iPhone outside a Miami club. He was not arrested or charged in the incident. They are also looking at a March 2011 incident in which Brown stormed off the set of ABC's "Good Morning America" and broke a window after host Robin Roberts asked him about his domestic abuse case involving Rihanna. He later apologized.
The DA's office also says that Brown's probation could be revoked because he tested positive for marijuana last year. Prosecutors say he was given a prescription by an acupuncturist, who is not permitted to prescribe cannabis to their clients. Brown has a medical marijuana prescription from California, where the substance is permitted for such purposes inside the state.
(Copyright ©2014 OnTheRedCarpet.com. All Rights Reserved.)
Sign up Stay Informed
Entertainment News