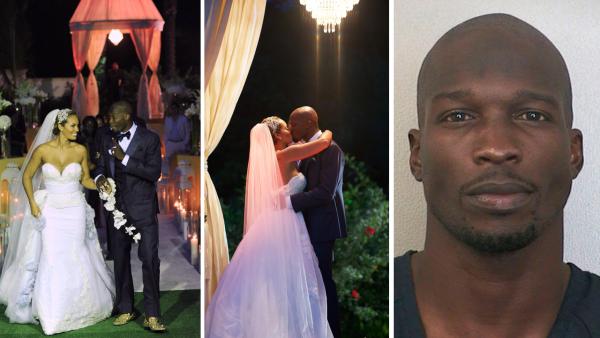 Chad Johnson pleads no contest in Evelyn Lozada battery case, avoids jail
09/21/2012 by Corinne Heller
Chad "Ochocinco" Johnson, formerly of the Miami Dolphins NFL team, has pleaded no contest to a misdemeanor battery charge, stemming from an August confrontation with then-wife Evelyn Lozada, and has therefore avoided a potential jail sentence.
The 34-year-old athlete made his plea on Friday, September 21, at a Florida court after his lawyer negotiated a deal with prosecutors. The agreement calls on him serve one year of probation for one year, complete batterers' intervention counseling and pay restitution for medical costs, according to the Sun-Sentinel newspaper. He is also barred from having any contact with Lozada.
The 36-year-old star of the reality show "Basketball Wives," told police that Johnson head-butted her in front of their Florida home on August 11. The two had argued over a drugstore receipt she had found that showed a purchase for condoms. Lozada suffered a cut on her forehead and was hospitalized as a result of the incident, police said.
Johnson had at the time told police that Lozada was the one who had head-butted him during the confrontation. He spent a night in jail after the incident and issued a statement of apology, although he did initially plead not guilty to the battery charge. Had he not struck a plea deal, he could have faced a maximum sentence of one year in jail.
Johnson said on the Showtime show "Inside The NFL" on Wednesday that he has been taking anger management classes.
The same day, Lozada's divorce from him was finalized. She had filed the papers three days after the confrontation and 41 days after their wedding, which was filmed for a VH1 reality show, "Ev and Ocho," which references his temporary last name Ochocinco that he had adopted for about four years until this past summer. The cable network later announced that it was cancelling the series in light of Johnson's arrest.
The athlete has been on reality TV himself - he had his own dating show, VH1's "Ochocinco: The Ultimate Catch," and completed on ABC's "Dancing With The Stars" in 2010 (see photos). He said on "Inside The NFL" that he hopes to return to professional football. Following the confrontation, the Miami Dolphins cut Johnson from the football team. He had signed with them in June.
Lozada was previously engaged to NBA player Antoine Walker. She has a daughter, Shaneice, from a previous relationship. Johnson also has four children of his own - Jicyra, Chad Johnson II, Chade and Cha'iel.
Check out which other celebrities broke up or filed for divorce in 2012.
(Copyright ©2014 OnTheRedCarpet.com. All Rights Reserved.)
Sign up Stay Informed
Entertainment News