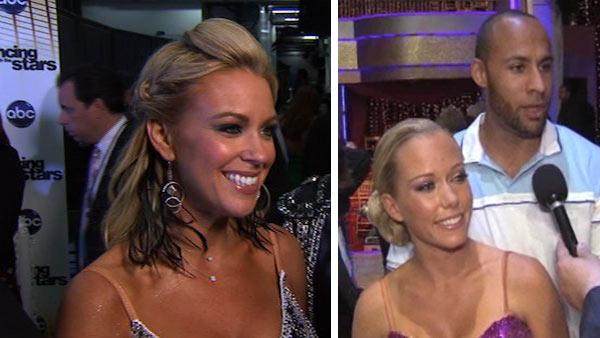 'Celebrity Wife Swap' stars Kate Gosselin, Kendra Wilkinson
02/14/2013 by Corinne Heller
Get ready for Kate Gosselin's reality TV return! The 37-year-old and famous single mother of 8-year-old sextuplets and 12-year-old twins, who rose to fame with the TLC show "Jon & Kate Plus 8," will appear on ABC's "Celebrity Wife Swap," the network announced in a statement obtained by OTRC.com. on Thursday, February 14. On the season 2 premiere on Tuesday, February 26, viewers will get to watch the hijinks that likely ensued when Gosselin traded places with 27-year-old reality star Kendra Wilkinson, a married mother of one and a former girlfriend of Playboy founder Hugh Hefner. On "Celebrity Wife Swap," famous female stars swap lifestyles, children and homes for one week and also dictate new rules of the house, much to the annoyance of their new "families." "Point Break" actor
Gary Busey and disgraced evangelical pastor Ted Haggard
were among the cast of the first season, which aired in January 2012. "Jon & Kate Plus 8" debuted in 2007. Gosselin and husband Jon divorced in 2009 after 10 years of marriage and the show's name was changed to
"Kate Plus 8." The show ended its run
in 2011. That was the last time Gosselin appeared on reality television. Last fall,
Gosselin was fired from an almost one-year CouponCabin.com blogging gig
. The CEO said she was "simply not a good fit." She had penned blogs offering money-saving advice. Her posts were often flooded with negative comments. In 2010, Gosselin made a guest appearance with her kids on "Sarah Palin's Alaska" (
see photos
), which also aired on the TLC cable channel. She also competed on ABC's ballroom dancing competition show "Dancing With the Stars." (
watch video
) Wilkinson was a contestant in 2011 (
watch video
). Wilkinson is known for the E! reality shows "The Girls Next Door," which was about Hefner's live-in girlfriends at the Playboy Mansion" and "Kendra" and recently, the WE tv series "Kendra on Top," which features her family -- husband Hank Baskett, a former NFL player, and their 3-year-old son, Hank Baskett IV. Wilkinson also appears in ABC's new diving competition show "Splash," which debuts on March 19. Season 2 episodes of "Celebrity Wife Swap" will air on Tuesdays at 8 p.m. ET, while the cooking competition series "The Taste" will move to 9 p.m. ET. The show that currently airs in that time slot, the comedy "Happy Endings," will move to Fridays on March 29. Two new episodes will air, starting at 8 p.m. ET, after the sitcoms "Last Man Standing" and "Malibu Country" air their season finales.
(Copyright ©2014 OnTheRedCarpet.com. All Rights Reserved.)
Sign up Stay Informed
Entertainment News