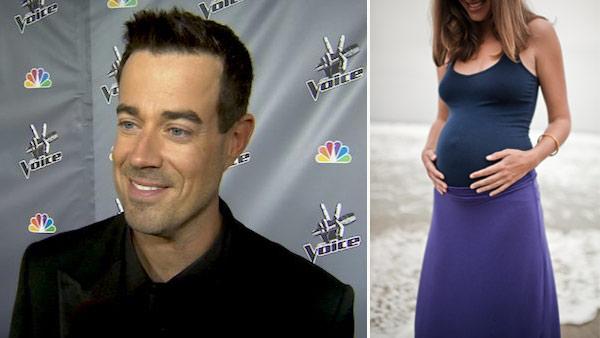 Carson Daly, girlfriend Siri Pinter welcome baby Etta Jones
09/07/2012 by Nichole Hamilton
Carson Daly is once again singing the tune of fatherhood.
"Tonight at 5:15pm we welcomed the latest addition to our family," Daly posted on his Facebook on September 6. "Etta Jones Daly weighs 8lbs and is beautiful! Mom was a rockstar, Jackson James is a proud big bro, and dad's drinking a cold one. Praise God."
The child was born on the day of the 2012 MTV Video Music Awards. Daily, 39, rose to fame as a VJ on MTV's "TRL" show for four years before he began hosting his late-night NBC talk series, "Last Call With Carson Daly." He also currently serves as the host of NBC's singing contest show, "The Voice."
Etta is the second child of the television personality and his girlfriend Siri Pinter. The two also have a 3-year-old son named Jackson James. Pinter, a food-blogger, who announced her latest pregnancy in May.
"I am due early September. We are beyond thrilled and blessed," Pinter wrote on her blog, Siriously Delicious, on May 4. "I have been eating a lot of cookies."
>Daly recently opened up about fatherhood, telling Parade magazine in April, "I lost my father at a young age, so fatherhood holds a special place for me. I want to slow down and enjoy every second."
The third season of "The Voice" premieres on Monday, September 10 at 8 p.m. EST/PST. It was recently announced by NBC that the reality competition would be adding a third night to their weekly line-up for the first part of the season - the blind auditions, according to The Hollywood Reporter.
The addition of a Wednesday episode now puts the show up against the season 2 premiere of Simon Cowell's FOX singing contest show, "The X Factor," which is set to debut new judges Demi Lovato and Britney Spears.
(Copyright ©2014 OnTheRedCarpet.com. All Rights Reserved.)
Sign up Stay Informed
Entertainment News