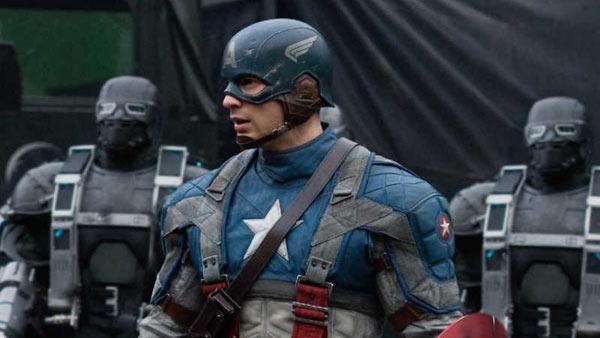 'Captain America: The First Avenger' tops weekend box office with $65.8 million
07/24/2011 by OnTheRedCarpet.com Staff
"Captain America: The First Avenger," starring Chris Evans, topped the box office in its opening weekend with an estimated $65.8 million, according to the Associated Press.
The film is part of the launching pad to build up Marvel's upcoming blockbuster superhero film "The Avengers," which will hit theaters on May 4, 2012 with Evans, Robert Downey Jr., Chris Hemsworth, Jeremy Renner and Mark Ruffalo playing Captain America, Iron Man, Thor, Hawkeye and the Hulk respectively.
In "Captain America," which is set in the 1940s, Steve Rogers (Evans) is deemed physically unfit to join the U.S. Army and fight the Nazis during World War II. He then volunteers for a secret research project that turns him into super soldier Captain America.
Sebastian Stan plays his friend and sidekick Bucky Barnes and Hugo Weaving plays his nemesis, Red Skull, who works for Adolf Hitler. Tommy Lee Jones portrays Col. Chester Phillips, who recruits Rogers for the research project and Hayley Atwell plays Peggy Carter, Captain America's love interest.
The big box office win for "Captain America" is also another victory for Marvel because it was able to dethrone last weekend's big box office champ "Harry Potter and the Deathly Hallows: Part 2." The film set several box office records last weekend, including having the biggest world wide box office debut of all time.
The eighth and final installment in the boy-wizard franchise dropped to the second spot and made just over $48 million in its second weekend for a domestic total of $274.1 million.
The other new release for the weekend, "Friends With Benefits" with Justin Timberlake and Mila Kunis, opened in third place with $18.5 million. Critics noted the film was similar "No Strings Attached," starring Ashton Kutcher and Natalie Portman, which was also about friends who decide to try to add casual sex to their relationship. "No Strings Attached" debuted in January with $19.7 million.
In other big box office news, "Transformers: Dark of the Moon" became the highest-grossing movie in the franchise and the highest grossing movie ever distributed by Paramount Pictures. The movie crossed the half-billion-dollar mark with $62 million from 60 worldwide markets this weekend. Its cumulative overseas gross now stands at $556.6 million.
Domestically, the third "Transformers" movie came in fourth place for the weekend and made $12 million for a domestic total of $325.8 million.
The Jennifer Aniston and Jason Bateman comedy "Horrible Bosses" rounded out the top five box office winners of the weekend. The movie earned $11.7 million to raise its domestic sum to $82.4 million.
Check out a trailer for "Captain America: The First Avenger" below.
(Copyright ©2013 OnTheRedCarpet.com. All Rights Reserved.)
Sign up Stay Informed
Entertainment News