Entertainment News: brooke shields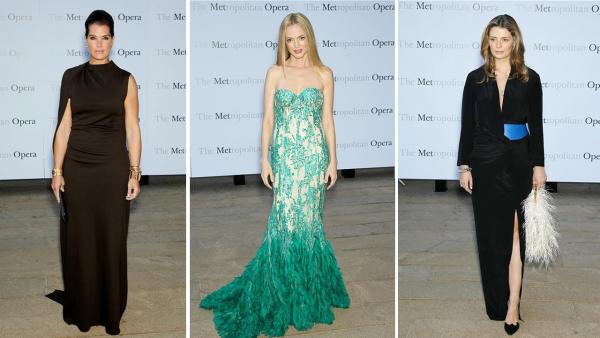 09/24/2013
See photos of Heather Graham (dressed in a nude and emerald mermaid gown), Brooke Shields, Micha Barton (both dressed in black) and others at the Metropolitan Opera's season opening performance of Tchaikovsky's "Eugene Onegin" on Sept. 23, 2013.
More brooke shields
09/24/2013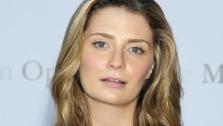 Mischa Barton, who played Marissa Cooper on "The O.C.," showcased a glam and sexy look as she joined many celebrities at the Metropolitan Opera House's season opening of Tchaikovsky's "Eugene Onegin" on Monday evening.
The 27-year-old actress and former model, who has mostly remained out of the spotlight since her show ended in 2007, wore a slinky, black, long-sleeve gown with a thigh-high slit and electric blue belt. She paired the look with an ivory, feathered purse.
07/25/2013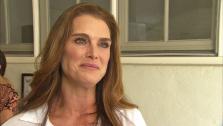 Brooke Shields tells OTRC.com that she has found confidence as director of 'Chicago.'
07/25/2013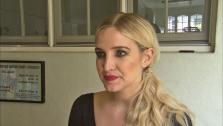 Ashlee Simpson told OTRC.com what it has been like working alongside Brooke Shields at the rehearsals of 'Chicago.'
07/26/2013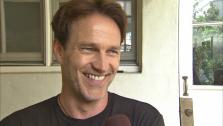 Stephen Moyer admits that going back to theater for the Hollywood Bowl production of "Chicago" is "daunting and terrifying" but that "it's nice to get back to doing something that I love."
Moyer plays Billy Flynn in the production, which will have three performances at the Hollywood Bowl in Los Angeles on July 26, 27 and 28. He will be joined on stage by "Les Miserables" actress Samantha Barks, Drew Carey, Ashlee Simpson and Lucy Lawless in the production, which is directed by Brooke Shields.
07/09/2013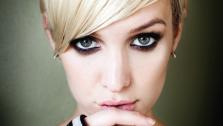 The name on everybody's lips is gonna be ... Ashlee Simpson. Again.
It was recently announced that the 28-year-old singer will play Roxie Hart in the upcoming Los Angeles production of "Chicago," directed by Brooke Shields. In the 1920s-themed musical, the character is a married, aspiring stage performer who is jailed and faces trial over the alleged murder of her lover. Renee Zellweger played the part in a 2002 movie.
06/21/2013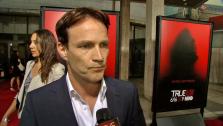 "True Blood" star Stephen Moyer is going to have to brush up on his tap dancing skills.
The 43-year-old actor will be playing Billy Flynn in the Hollywood Bowl production of "Chicago," it was announced on Friday, June 21. The production will be directed by Brooke Shields, who has appeared in "Chicago" on Broadway and at London's West End, and will have three performances on July 26, 27 and 28.
11/06/2012
Brooke Shields recently lost her mother Teri Shields, who died at age 79 after suffering from dementia.
Teri, who once managed the actress' career and helped make her a sex symbol, passed away on October 31 and is also survived by a sister and two granddaughters, The New York Times reported on Monday.
05/09/2012
Brooke Shields turned heads at Monday's Met Costume Institute Gala, but it was partially because of the black cane at her side.
The 46-year-old actress, who wore a J. Mendel gown to the annual event, suffered a torn meniscus in her knee while portraying Morticia Addams in the hit Broadway musical comedy, "The Addams Family."
06/29/2011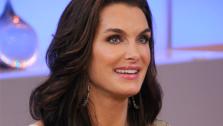 Brooke Shields returned to Broadway this week to portray Morticia in the musical comedy "The Addams Family" at the Lunt-Fontanne Theatre.
Shields, who recently appeared in the musical "Leap of Faith" in Los Angeles, has taken the role over from Bebe Neuwirth. Shields, 46, stars opposite Tony Award winner Roger Rees ("Nicholas Nickleby"), who plays Gomez in the musical, which is based on the "creepy" and "kooky" characters created by illustrator Charles Addams and made famous on television and in films. Do you think Brooke Shields makes a good Morticia Addams? Vote in our poll.
05/31/2011
Brooke Shields recently told new graduates of Princeton University, her alma mater, that she would have "never survived" a return to the entertainment industry had it not been for her college experience and joked that the Class of 2011 is made up of "a bunch of tools."
The actress, who turned 46 on Tuesday, May 31, spoke at the school's annual Class Day the day before. She graduated with honors from Princeton in 1987 and majored in Romance languages and literatures.