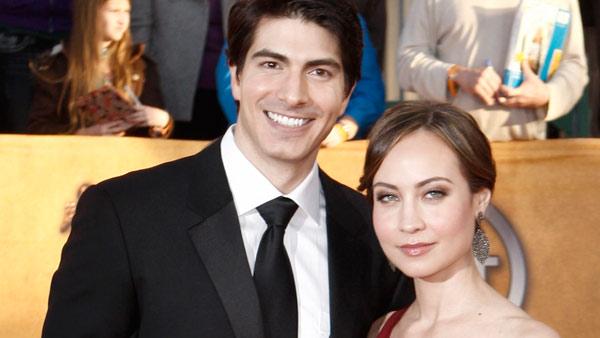 Brandon Routh and wife Courtney Ford expecting first child
03/14/2012 by Olivia Allin
"Superman Returns" star Brandon Routh and his wife, "Parenthood" actress Courtney Ford are expecting their first child, the actor's rep confirmed to OnTheRedCarpet.com on March 14.
The pair met in 2003 when Routh was working as a bartender at Lucky Strike in Hollywood. They got married in November 2007.
Following his big break portraying Clark Kent and his superhero alter ego in "Superman Returns," the 32-year-old actor appeared in films like "Zack and Miri Make a Porno," "Unthinkable" and "Scott Pilgrim vs. the World." He also appeared in several episodes of "Chuck" and is currently filming the CBS pilot "Partners."
"It's been so hard keeping the news to ourselves," Routh told People magazine. "Everyone on set keeps asking, 'Do you have kids?' and I've had to say, 'Well... not yet!' It's the truth. The baby hasn't been born yet!"
Ford, 33, also had trouble keeping the news to herself while filming a six episode arc on NBC's "Parenthood."
"It started getting difficult to hide what was happening," Ford told People. "Flu and food poisoning excuses only work for so long, and by the last episode I could no longer button my pants! I just tried to joke that I had a big lunch!"
Ford is known for her roles on "Dexter" and "True Blood," where she portrayed Portia Bellefleur. The actress also appeared in films like "Alien Raiders" and "The Good Doctor."
(Copyright ©2013 OnTheRedCarpet.com. All Rights Reserved.)
Sign up Stay Informed
Entertainment News