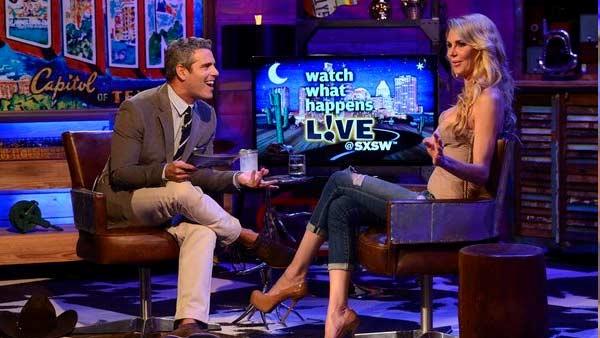 Brandi Glanville talks Oscar dress, Gerard Butler and Chelsea Handler (Video)
03/12/2013 by Kristina Lopez
"The Real Housewives of Beverly Hills" star Brandi Glanville appeared on "Watch What Happens Live" on Monday, March 11, and host Andy Cohen gave Glanville the opportunity to speak her mind about people who hated her
Oscar dress
, her hook-up with Gerard Butler and Glanville even made a dig at Chelsea Handler's recent appearance on the program. Glanville, who designed her dress at the Oscars, was on the red carpet at the ceremony because she was the special fashion correspondent for the "OTRC.com at the Oscars." Cohen read some comments about her dress and gave Glanville a 15-second chance to respond. "Dear all of you, I really don't care what you think. I loved the dress and the fact that I, Brandi Glanville, made any Oscar list is freaking amazing," Glanville said. "Like you're talking about me at the Oscars? Yay! I win." Cohen also asked Glanville about the fact that Gerard Butler recent confirmed that he and Glanville slept together. The reality star initially revealed in
a January 2012 episode of "Watch What Happens Live"
that she slept with Butler, but when the actor was asked about Glanville by a
TMZ cameraman
just a few days later, he seemed like he didn't know who she was. While appearing on
"Howard Stern's radio show
[
Warning: link includes explicit language.
] on Monday, March 11, Butler confirmed that he and Glanville did indeed sleep together but he had never learned her full name. He also didn't know Glanville stars on "The Real Housewives of Beverly Hills." "We had a little texting today and I think he's a doll and I feel bad for what I said," Glanville told Cohen. "He is lovely and I appreciate him making it right." Glanville also took an unexpected dig at Chelsea Handler's March 6 appearance on "Watch What Happens Live." The moment happened when Cohen asked Glanville about LeAnn Rimes' reaction to Glanville's book "Drinking and Tweeting: And Other Brandi Blunders." "She said there's a lot of lies in there. Clearly, she got an 'early copy.' She said there's a lot of lies in there, there's not. Otherwise, I would have lawyers, letters and whatnot happening," Glanville said. "This is the last time I want to speak poorly about her, I can say bad things about everyone!" "Like Chelsea Handler was here, she sucked on your show," She added. "She was horrible." Glanville revealed that the two sort of know each other because they have the same agent. Glanville also claimed she made out with Handler's assistant and brother. Check out Brandi Glanville's appearance on "Watch What Happens Live" below. [
Warning: Videos include explicit language and censored expletives.
]
Sign up Stay Informed
Entertainment News