Entertainment News: bon jovi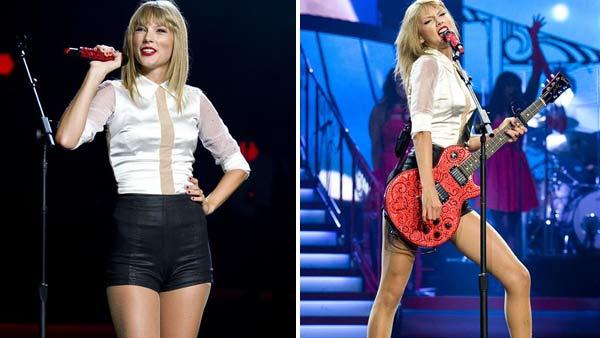 03/11/2014
Taylor Swift continues to reign supreme in the music industry, as she's been named Billboard's highest-earning artist.
In its annual Money Makers list, Billboard has selected Swift as its highest earning musical act, following the singer's banner year in 2013. The "I Knew You Were Trouble" singer placed at No. 15 on the list a year prior, which took into account the musician's 2012 earnings. Madonna was No. 1 previously, however she did not make the list in 2014.
More bon jovi
12/31/2013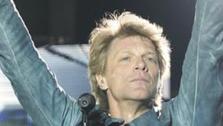 Jon Bon Jovi doesn't just sing -- he's a born performer. The passion he showcases on stage is infectious. So turn up 'Livin' On A Prayer' at home and check out photos of the Bon Jovi frontman's most inspiring concert moves during the rock band's 2013 Because We Can world tour.
04/03/2013
Bon Jovi guitarist Richie Sambora has left the group's "Because We Can" tour due to "personal issues."
The band, headed by Jon Bon Jovi, began the first part of the tour in February in Washington, D.C. and kicked off its second leg in Calgary in Canada on Tuesday. Sambora was absent.
11/30/2012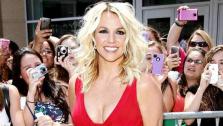 Britney Spears, Dr. Dre and Taylor Swift are among the pack in Forbes' list of the 25 Highest-Paid Musicians of 2012.
Spears, 30, earned $58 million from May 2011 to May 2012, nabbing the seventh place spot on the esteemed list. The performer returned to the ranks of music's elite earners thanks to her fragrance line with Elizabeth Arden, her latest album Femme Fatale and her current judging gig on the hit singing competition "The X Factor."
11/30/2012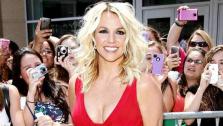 Britney Spears and Taylor Swift made Forbes' 2012 list of Highest-Paid Musicians. Find out who else made the cut and how much they are earning.
12/11/2011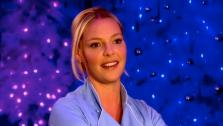 Katherine Heigl dished about working with Jon Bon Jovi as her love interest in "New Years Eve," as well as working with director Garry Marshall.
Heigl, known for films such as "Knocked Up" and "The Ugly Truth," portrays a caterer, Laura, in the 2011 film "New Year's Eve." When she reunites with her ex-flame turned rock-and-roll sensation, Jensen (Jon Bon Jovi), tensions mount for the couple and old feelings are rekindled.
10/19/2011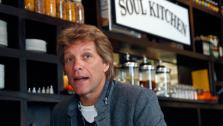 Jon Bon Jovi has continued his charitable actions with the Jon Bon Jovi Soul Foundation, opening The Soul Kitchen, a "pay-what-you-can" restaurant.
The Soul Kitchen, which celebrated its grand opening on Wednesday, is located in a former body shop near the Red Bank train station in central New Jersey. The restaurant will provide gourmet-quality meals to the hungry and enable them to volunteer on community projects. Paying customers are encouraged to leave what they can in envelopes on the table, though the menus do not list prices.
06/08/2011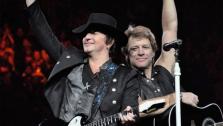 Bon Jovi guitarist Richie Sambora has left rehab and is ready to return to tour with the rock band.
The 51-year-old checked into a treatment facility in April. On the 28th of that month, Bon Jovi said in a statement: "Our support for Richie is absolute. He is, and will remain, a member of Bon Jovi. Although he will be absent from upcoming shows for the time being, we very much look forward to his healthy return. In the meantime, we will keep our commitment to our fans and continue our tour."
05/18/2011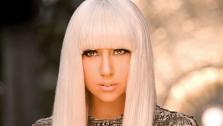 See which celebrities were named Forbes Celebrity 100 most powerful list, including Lady Gaga and Oprah Winfrey.
04/21/2011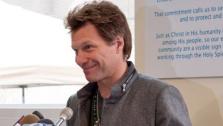 Jon Bon Jovi recently helped open a homeless shelter for teens and young adults in Philadelphia.
The Covenant House Rights of Passage apartments provide temporary housing for 20 homeless youths under the age of 21. The 49-year-old rocker's charity, the Jon Bon Jovi Soul Foundation, helped fund the $3 million facility.
01/24/2011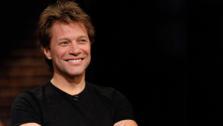 The cast of "New Year's Eve" grows with the addition of musician Jon Bon Jovi and "Saturday Night Live" head writer and cast member Seth Meyers, according to The Hollywood Reporter.
Jessica Biel, Lea Michele, Sofia Vergara, Hilary Swank, Ashton Kutcher, Robert De Niro, Halle Berry and Michelle Pfeiffer have all signed on for the film.
12/30/2010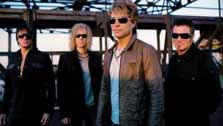 After over 20 years in the music business Bon Jovi can still draw a great crowd.
The band sold $201.1 million in worldwide ticket sales, according to Pollstar, earning more than any other band worldwide in 2010. The report also indicates Bon Jovi remained successful even though overall sales for 2010 were on a downward trend because of the sluggish economy.
11/26/2010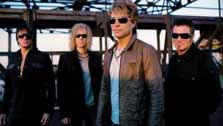 Jon Bon Jovi has been touring with Bon Jovi for over 20 years and says he couldn't have imagined the band's success as a struggling musician in New Jersey all those years ago.
"Playing regionally at that time was about as big as you imagined ever being," Jon Bon Jovi said on NPR's Fresh Air. "So, the idea of No. 1 records, forget about it, you know. The idea that I could talk to you now about the hundred-plus million albums, I had never thought about in my wildest dreams."
Sign up Stay Informed
Entertainment News