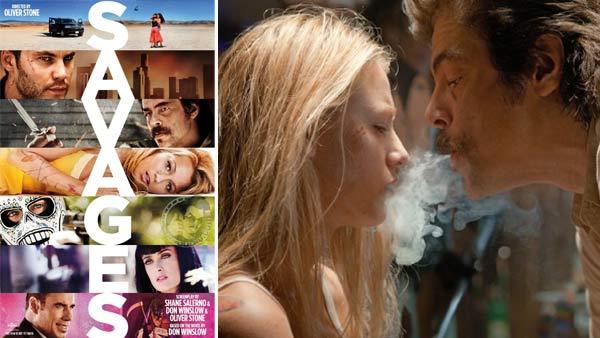 Blake Lively doubles up boyfriends in Oliver Stone's 'Savages' - Watch the trailer
04/06/2012 by Olivia Allin
Blake Lively's career takes a turn for the gritty in the newly released trailer for Oliver Stone's "Savages." "Savages" follows pot growing best friends Ben and Chon (Aaron Johnson and Taylor Kitsch) who fight back against a Mexican drug cartel who kidnapped their shared girlfriend O (Lively) after they refuse to go into business with them. The movie, which was directed by Stone and is set for release on July 6, also stars Benicio Del Toro, Uma Thurman, John Travolta, Salma Hayek, Demian Bichir, Emile Hirsch and Trevor Donovan. "Just because I'm telling you this story doesn't mean I'm alive at the end of it," Lively's character says in the trailer. "It's that kind of story - where things just got so out of control." Travolta portrays a federal agent in the film while Hayek and del Toro play drug kingpins in the Mexican cartel. In the trailer, Lively is shown wearing a yellow dress while joining "Kick-Ass" star Johnson in the bathtub and kissing Kitsch, who is best known for his role in "Friday Night Lights." The ménage à trois is a big change from Lively's personal life. The serial-monogamist, who is currently dating her "Green Lantern" co-star Ryan Reynolds, recently told Elle magazine that
she has only had four boyfriends
in her whole life. The 24-year-old actress has been previously linked to actor Kelly Blatz and "Gossip Girl" co-star
Penn Badgley. The two broke up in September 2010
after dating for about three years. She also dated Leonardo DiCaprio,
but it was announced in October 2011 that they had split up
after about five months of dating. Jennifer Lawrence was originally slated to take the role of O in the film, but turned it down when she landed "The Hunger Games." Other actresses considered for the part include Olivia Wilde, Abbie Cornish, Amber Heard and Teresa Palmer. Lively portrays New York socialite Serena van der Woodsen on "Gossip Girl," which began its fifth season on September 26. The CW series
celebrated its 100th episode on Monday, January 30 with a royal wedding
. Lively has also appeared in films like "The Sisterhood of the Traveling Pants," "The Private Lives of Pippa Lee" and "The Town." Watch the trailer for "Savages" below.
(Copyright ©2014 OnTheRedCarpet.com. All Rights Reserved.)
Sign up Stay Informed
Entertainment News