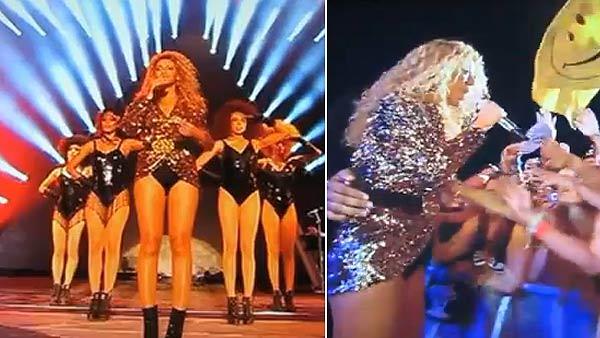 Beyonce performs at 2011 Glastonbury festival before album release (Video)
06/27/2011 by Corinne Heller
Beyonce made her debut at the Glastonbury music festival in England on Sunday, June 26, two days before the release of her new album, and told a crowd of tens of thousands of people that she fulfilled her "dream" of becoming a "rock star." Wearing a gold sequin jacket and a black leotard, the 29-year-old Grammy-winning pop and R&am;B star performed several of her hits, including Crazy In Love" and "Single Ladies," as well as "Survivor," which first made her and former group Destiny's Child famous 11 years ago. Beyonce also sang covers of "Sweet Dreams" by the Eurythmics, "Sex on Fire" by Kings of Leon, "The Beautiful Ones" by Prince and "You Oughta Know" by Alanis Morissette. Footage of her performance aired via satellite at the
2011 BET Awards in Los Angeles (see a list of winners)
. Beyonce was nominated for Best Female R&B Artist but lost to Rihanna. "I want you all to know right now you are witnessing my dream," the Reuters news wire quoted Beyonce as telling the crowd crammed in front of the stage. "I always wanted to be a rock star and tonight we are all rock stars ... I want you to get lost in this music tonight." At one point, Beyonce stepped off the stage while singing her 2009 song "Halo" and walked alongside a front row of audience members standing behind a barrier. She was accompanied by a security guard. Also spotted in the audience - Beyonce's husband, hip-hop artist Jay-Z, and friend, actress Gwyneth Paltrow, who has
credited her as one of her musical inspirations while preparing for her role in the 2010 film "County Strong."
Beyonce is set to release her fourth solo album, "4," on Tuesday, June 28
. A deluxe edition will be available at Target department stores and features three remixes and an exclusive music video of her single, "Run the World (Girls)." "My fans will be so excited about my new album because I put my heart and soul into creating something that's personal and honest," Beyonce, 29, said in a statement obtained by OnTheRedCarpet.com. The singer has called the album her "musical gumbo," as it includes songs in several different genres. Fans can
pre-order the album on Target's website
and a digital version of the deluxe edition will also be available online. Beyonce's last album, "I Am... Sasha Fierce," was released in 2008 and earned the singer six Grammy Awards, the most Grammys ever won by a female artist in one night. Beyonce has sold more than 75 million records and earned 16 Grammy Awards in her career, 13 as a solo artist and three as a member of Destiny's Child. In May, she was honored with the Millennium Award at the 2011 Billboard Music Awards. In June 2010, Knowles was ranked second on Forbes list of the 100 Most Powerful and Influential celebrities in the world and first on its list of the Most Powerful and Influential musicians. Watch fan-made videos of Beyonce's performance at the
Glastonbury music festival in England, as well as a clip posted on the website of the UK newspaper The Telegraph
.
(Copyright ©2014 OnTheRedCarpet.com. All Rights Reserved.)
Sign up Stay Informed
Entertainment News