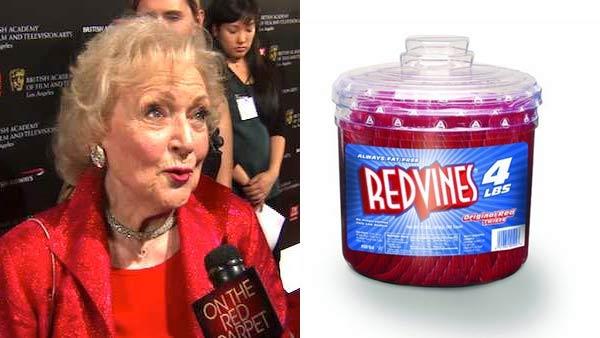 Betty White stays young with Red Vines and French fries
01/05/2011 by Kristina Lopez
Betty White celebrated her 89th birthday on Monday and the veteran actress only recently told reporters that she is going to slow down on work. So how does White stay so young? Well her "Hot in Cleveland" co-star Jane Leeves tells
Us Weekly magazine
that it isn't by watching what she eats. "She eats Red Vines, hot dogs, French fries and Diet Coke. If that's key, maybe she's preserved because of all the preservatives." Her other "Cleveland" co-star Wendie Malick told the magazine something similar. "She eats red licorice, like, ridiculously a lot. She seems to exist on hot dogs and French fries," Malic said. White's career is still red hot and the actress has been nabbing steady gigs throughout her career. Last year the actress hosted "Saturday Night Live," did guest stints on "The Middle" and "Community," on top of her "Hot in Cleveland" duties. She was also named "AP Entertainer of the Year" by the Associated Press in 2010. "It's hard for me to say no to a job because you spend your career thinking if you say no to a job they'll never offer you another one," White told the press earlier this month according to
The Hollywood Reporter
. "My mother taught me to say no as a girl. But I'm trying to cut down, I really am." "What is this Betty White business," she added. "This is so silly. You've had an overdose of me. I think I'm going to go away for a while." "Hot in Cleveland" returns for a second season on Wednesday on TV Land at 10 p.m. and White will reunite with her former television Mary Tyler Moore after 33 years. Moore, 74, and White, who turned 89 on Monday, starred on the sitcom "Mary Tyler Moore" in the 1970s. Moore played Mary Richards, a local news producer in Minneapolis, and White portrayed Sue Ann Nivens, host of the Martha Stewart-inspired show "The Happy Homemaker," whose punch lines often involved sexual innuendos, much like her current "Cleveland" character.
White told OnTheRedCarpet.com in November that she and Moore spent the entire day hugging one another
when they filmed the "Hot in Cleveland" episode. On the show Moore's character meets up with Elka, played by White, who was arrested in the season one cliffhanger, the cable network said in a statement. Check out footage from Betty White's birthday celebration below.
(Copyright ©2014 OnTheRedCarpet.com. All Rights Reserved.)
Sign up Stay Informed
Entertainment News