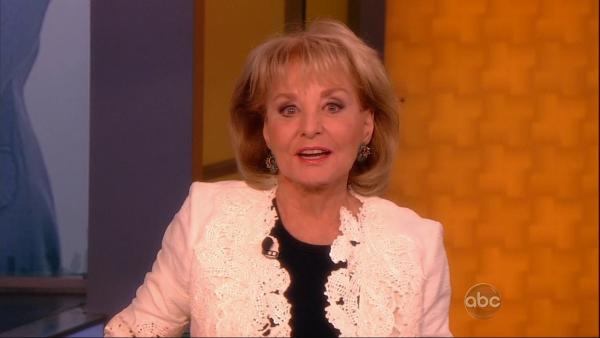 Barbara Walters announces 2014 retirement - 5 notable quotes
05/13/2013 by Corinne Heller
Barbara Walters officially announced her future retirement from television after more than 50 years, speaking on her ABC daytime talk show "The View" on Monday, May 13, following a
network announcement
a day earlier and weeks of rumors. The 83-year-old legendary newscaster was given a standing ovation on the program as she took her seat beside her co-hosts. "In the summer of 2014, a year from now, I plan to retire from appearing on television at all," Walters said on "The View. "It has been an absolutely joyful, rewarding, challenging, fascinating and occasional bumpy ride and I wouldn't change a thing." "I'm perfectly healthy," added the veteran newswoman, who had heart surgery in 2010 and earlier this year suffered a head injury and
battled chickenpox
. "This is my decision. I've been thinking about it for a long time and this is what I want to do." Walters began her TV journalism career in 1961, working for NBC's "Today" show as a writer and reporter for 15 years. She moved to ABC in 1976 to become the first woman to co-anchor an evening news program. Walters launched "The View" in 1997 and says she will continue to serve as a co-executive producer. Throughout her career, she has interviewed some of the most famous people in the world -- every U.S. president since President Richard Nixon took officer in 1969, Fidel Castro, Moammar Kaddafi and Saddam Hussein and top movie stars such as Angelina Jolie. Check out
5 notable quotes
Barbara Walters made about her career and retirement from TV on "The View" on Monday.
1. "There will be special occasions and I will come back -- I'm not walking into the sunset. But I don't want to appear on another program. I don't want to climb another mountain. I want instead to sit in a sunny field and admire the very gifted women and, OK, some men too who will be taking my place."

2. "I've had an amazing career beyond anything I could ever have imagined and I hope I may also have inspired other women to make television in front or behind the camera as a career. I smile when young woman says, 'I grew up watching you on TV.' It's their time now."

3. (Quoted during a montage, in which she discussed her time on the "Today" show) "No one was more surprised than I because I wasn't beautiful like many of the women on the program before me. I had trouble pronouncing my R's. I still do. But by the way, during that time, I was able to change the category for the women on that program, who up until then were called 'Today Girls' to the new title of 'co-host.' I'm very proud of that."

4. "Somebody once asked me, 'cause I'd always worked with men, I'll just say it straight, if I'd ever slept my way to the top, had I ever thought about that? And I said, 'I wish I had, because I would've made it much faster.'"

5. "I want to leave while people are still saying, 'Why is she leaving?' instead of 'Why doesn't she leave?'"
Watch Barbara Walters' retirement announcement below.
(Copyright ©2014 OnTheRedCarpet.com. All Rights Reserved.)
Sign up Stay Informed
Entertainment News