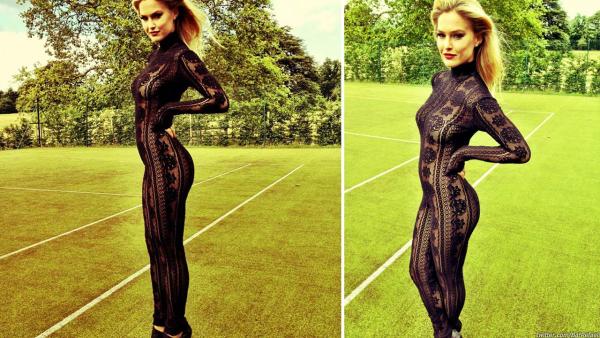 Bar Refaeli shows curves in lace, attends Olympics with Shaun White (Photo)
08/01/2012 by Corinne Heller
Israeli supermodel Bar Refaeli recently showed off her curves and slim figure in a black lace bodysuit, as seen in two photos posted on her Twitter page.
"Today's photo shoot.. Can't wait for u guys to see it!" she Tweeted on Monday.
The 5'9" 27-year-old blonde occasionally posts sexy photos of herself on social networking websites. Refaeli's modeling agency One Management lists her as a size 4. She is considered one of the most beautiful women in the world and has in the past graced the cover of Sports Illustrated's annual Swimsuit Issue and was in May named as No. 1 on Maxim magazine's 2012 Hot 100 list.
Refaeli is also famous for dating Leonardo DiCaprio on and off for several years until 2011. She recently attended the 2012 Summer Olympics in London with Olympic gold medal-winning snowboarder Shaun White. The two were photographed cheering on U.S. swim champion Michael Phelps, who won his 19th gold medal on Tuesday to become the Olympian with the most medals.
Rafaeli Tweeted a photo of herself with White and several of Phelps' family members, saying: "@shaun_white and me celebrating @MichaelPhelps with the family:) great job buddy!!! Amazing!"
White, 25, posted a similar picture, Tweeting: "Congrats @MichaelPhelps! Just watched him win his 19th medal. Hanging with his family. #Olympics"
She also Tweeted a picture of several half-naked male Olympic swimmers in their swimsuits.
"I think I've died and reached heaven :)," she said.
(Copyright ©2013 OnTheRedCarpet.com. All Rights Reserved.)