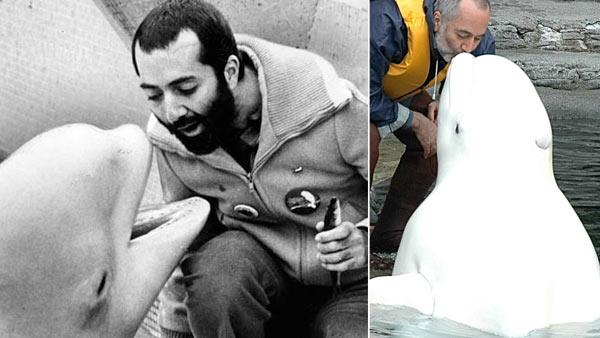 'Baby Beluga' inspiration Kavna dies at age 46, mourned by Raffi
08/09/2012 by Olivia Allin
Kavna, the baby beluga whale who inspired children's songwriter Raffi to write a song about an imaginary whale named "Baby Beluga," has died at age 46.
Kavna died from a possible cancer-related illness on August 6, at the Vancouver Aquarium, where she had lived since 1975. Kavna was estimated to be 46 years old and had spent most of her life in captivity. Beluga whales usually live from 25 to 30 years.
During a preliminary autopsy, Vancouver Aquarium veterinarian Dr. Martin Haulena discovered cancerous lesions and suspects that they contributed to Kavna's death.
"Right now, the lesions are most consistent with a cancer, and that is unfortunately a disease we associate with age," Haulena told the Vancouver Sun on August 7. "So we're looking at a great life for a great whale who had almost nothing wrong with her."
Raffi Cavoukian wrote the hugely popular children's song "Baby Beluga" after meeting Kavna in 1979. The song tells of an imaginary beluga's life in the "deep blue sea."
"It was my first time at the aquarium, and I was very fortunate that I got to be taken pool-side and the trainer helped me play with Kavna," Cavoukian said on August 7. "She was just so beautiful. She was so playful and she had a very pure spirit and you could swear she smiled at you."
Cavoukian spent much of the week assuring fans that Baby Beluga did not pass away, as she is an imaginary whale, but mourned the beloved beluga who inspired his 1979 hit.
"Kavna will be missed by all who knew her. LOVED meeting her in '79, the magnificent 16 yr old beluga whale who inspired Baby Beluga," Raffi Tweeted on August 6, adding later, "Thanks for all your love - KAVNA had a profound impact on me. her voice is likely in the intro and close of the Baby Beluga recording."
(Copyright ©2013 OnTheRedCarpet.com. All Rights Reserved.)